Hey Knitter Friends,
Here's what's happening at MAKS this Holiday Season!
Upcoming Events: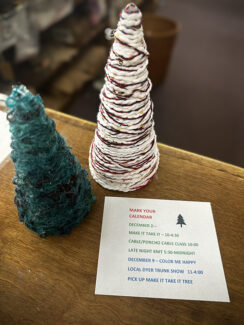 December 2, 2023
Make It Take It Christmas 2023
This year's MITI is an adorable fiber Christmas Tree, cost is $2.00 per ornament (that includes your materials). We will do the MAKE IT on December 2nd from 10:00 a.m. to 4:30 p.m. and then the TAKE IT happens the following week on Saturday, December 9th (no set time for pickup, but we want to make sure they are fully dry before they leave). #MITI2023
Late Night Knit
Remember when we used to do "Overnighters"? Yeah well, we're a bit older now. So we're now doing Late Night Knit from 5:30 to Midnight. It's all the same fun just not so late. $20.00 for the event and we'll have pizzas and soda. Feel free to bring a snack and your current WIP to come hang out with us. #oldfolksgottaknitandstillgettheirrest
December 9, 2023
Color Me Happy
Trunk Show for Color Me Happy from 11:00 a.m. to 4:30 p.m. Come see all the lovely items for sale.
From Michelle and Linda: Our fibers are hand-dyed (with love) in small batches in our studio in Michelle's backyard. We use natural dyes, several of which come from plants grown in Linda's backyard and our studio garden. Located in Fishers, Indiana. #welovelocal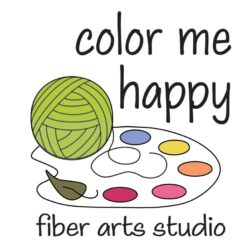 Also, we are updating our store policy for the Beginning Knitting Class on Wednesday Evenings.  The new policy was put into effect as of November 14, 2023.
COST- $100 ( cash or check- full fee goes to teacher )
You will get 10 punches ( visits) Please check in with a store employee ( value $10 per visit/ $5 an hour)
Any Wednesday Night  visit gets a punch
Free shop visits -you will not be charged for shop visits during normal store hours
New beginning knitting students- still working on 1st project will get a free punch card and it will be good through the finish of that project
Existing class members ( not working on their first project) will get a free 10-punch card. After that, they will need to purchase a 10-punch card
Yarn from the shop is required for the knitting class
If you have any questions please call the shop or stop by and ask.
Have an amazing day,
MAKSDRU