Big Summer Sale
June 20-23, 2019
All In Stock Yarns 30% Off!
(except MAKS cakes)
Check out the blog for daily door busters!
Upcoming Events!
June 20-23 – Big Summer Sale – 30% off most items
June 29 – OINK PIGMENTS Trunk Show – 10-4:30
June 29 and July 6 – FIBERFEST 10-12 – Cash/Check Only
August 3 – I FEEL LIKE DYEING Trunk Show – 10-2
September 9-21 HARRY POTTER Trunk Show – Yarns by KNITTED WIT
Bus Trip To Vogue Live
Saturday, November 2, 2019
$50 per person until September 2nd then
the price goes up to $60 per person
Contact: Mass Ave Knit Shop – 617-638-1833
Your payment is your reservation!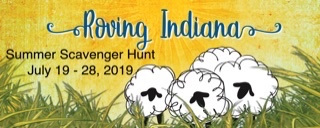 MARK YOUR CALENDARS!
We are SO EXCITED about the 1st ever ROVING INDANA Scavenger Hunt!! In case you have nothing going on this summer, we invite you to join us in this fun activity! During the dates of July 19-28 you can visit all the local shops participating, get a fun reminder of your stop and get your entrance card stamped ( available at your local shop _______________ -LIMITED QUANTITIES)! Once you have visited all the shops you can leave your entrance card at your last stop. You will be entered in a $25.00 drawing at that shop. Each shop will have ONE winner! See you in July!