SPRING RETREAT
Cost $25.00 for the weekend.
Includes Event Bag, Patterns and 20% discount for yarn purchases
(except Hedgehoge, Liberty Wool Print and MAKS Cakes).
Stay tuned, a final decision will be made shortly on this event.
Store Closed
Mass Ave Knit Shop will be closed
until April 7th. Please check our site
and your emails for further information.
APRIL OVERNIGHTER - Cancelled
Due to the closing of non-essential businesses,
we will be cancelling the April Overnighter.
Stay Safe and Healthy
Wash your hands like you just finished
a bowl of chocolate ice cream and
you're about to knit with $200 yarn.
Stay safe and healthy, knit friends.
I am so sad that we are not able to get together for the Spring Retreat next weekend!! I am planning to share some of the fun patterns we had to offer at the Retreat ! I am tentatively rescheduling the Spring Retreat for the weekend on June 12-14th.
What I am planning is to fill the time between now and then by emailing a different Retreat pattern each Friday with a yarn suggestion and color options. For those who sign up, you will receive 20% off on that yarn until the following Thursday. Then Friday I will email the next pattern , and repeat… Yarn will be sold first come, first serve. And realize that some yarn companies are not shipping right now, so do not wait.
What I am asking is that you sign up for the retreat this Thursday or Monday, those are the days I will be at the shop. I will email the first pattern on the 17th of April. I will need your email address when you sign up. If you have signed up already, I will try to contact you if I do not already have your email in the register.
Also, I am working on getting an online store up and running! I will attempt to have each yarn for the Retreat pattern on line, so you will be able to order anytime of day! I will send out a discount code with each pattern that you can apply to your yarn purchase. The code will be good from friday til Thursday of the next week. If I find this is not possible I will let you know! It is a whole new world for us at Mass. Ave Knit Shop!
Cost for the Retreat is $25.00. You will still get a shop bag, paper copies of patterns and 20% off at the in store Retreat!
I will be at the shop on Mondays and Thursdays until THEY tell me I have to stay home! Take care and thank you for all your support!
Susan
Susan will be at the shop on Thursday from 11-3 if you need anything!   Just give Susan a call and we can ship out to you!
If you have your yarn or want to join the Malabrigo Dos Tierras knit along using Joji Locatelli's pattern Odyssey, don't forget to go to the Malabrigo website and sign up for prizes offered by the yarn maker for this project.  Under Recent news, click on the Malabrigo KAL and then go down to Sign up.  You can also get the pattern at this site or go to Ravelry to get your free copy.
Here are some groupings we have put together for this project: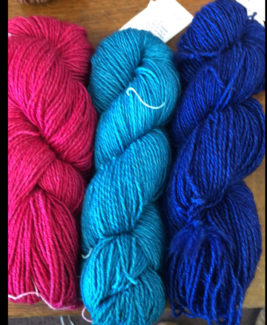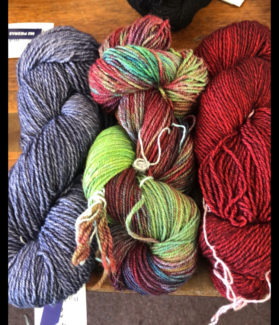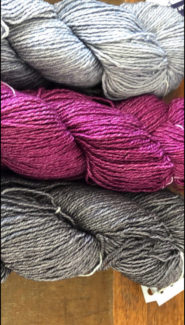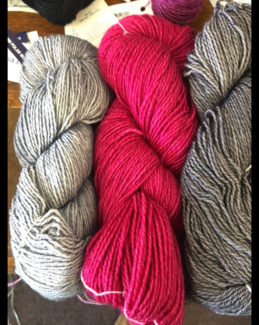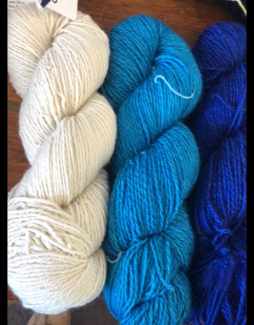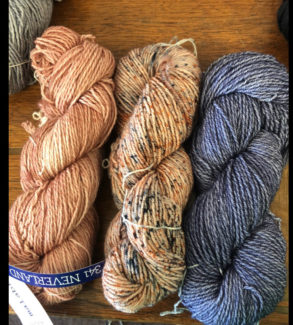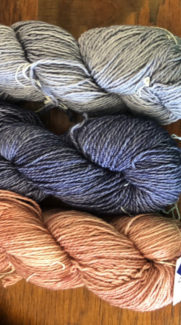 Also, Westknits' new pattern drops tomorrow (Wednesday)!!!! It is called Painting Bricks Shawl.
Here is Susan's yarn choice-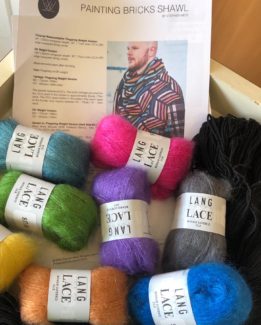 The shawl pattern has both fingering weight and DK weight options. Stephen mentioned that you can use lace weight mohair doubled, so that is what I am doing!! I am using Malabrigo sock for my Main Color (mc). I am using Lang Yarns Lace Mohair. The pattern calls for 8 Contrast Colors (cc).
Cindy spent time the other day putting together some possibilities fo the shawl using Baah LaJolla minis!
Here they are! Let me know if you want me to send one (or 2) to you!
Pictures have numbers to help us get the one you want. Kits run from $120- $156 depending on your main color.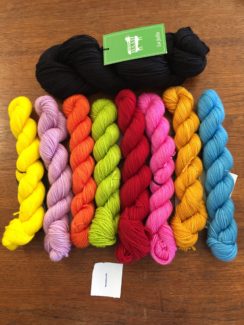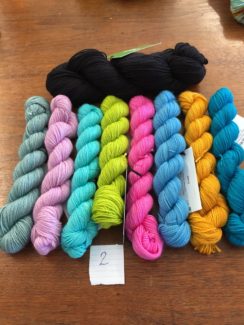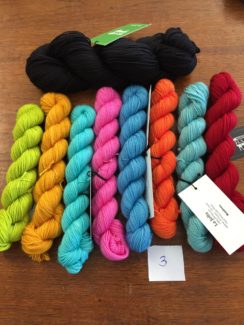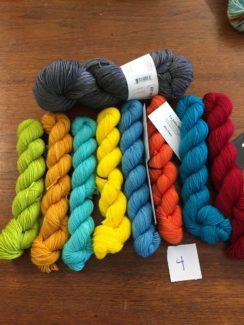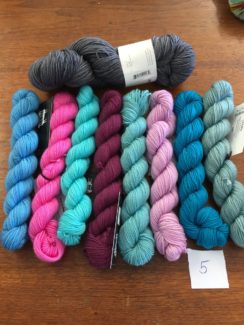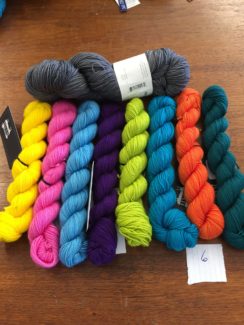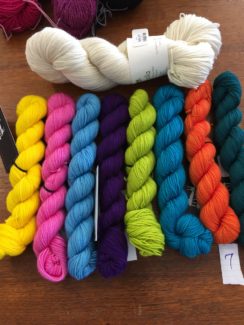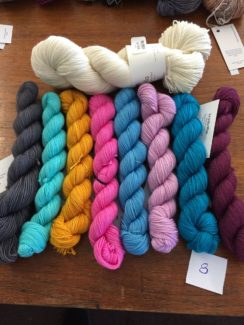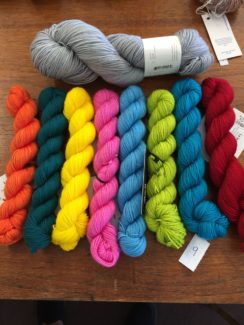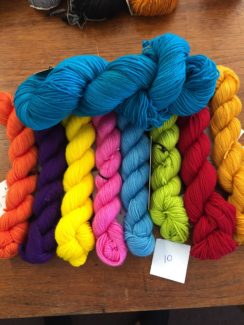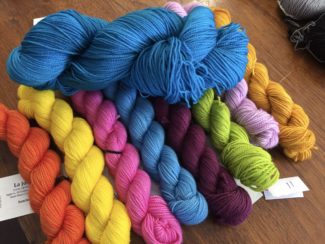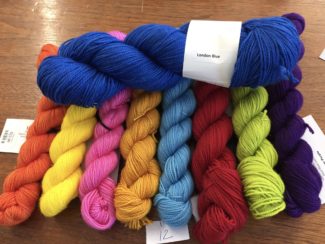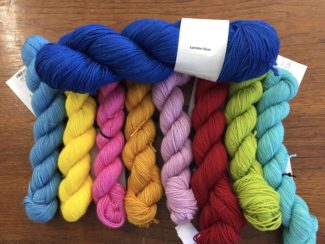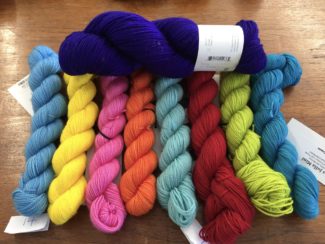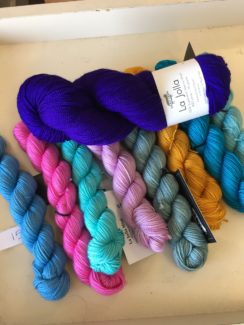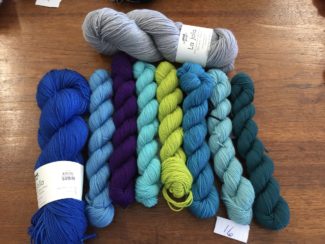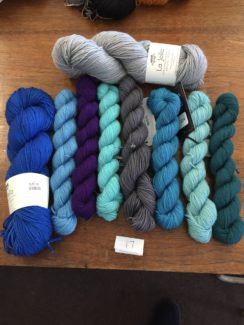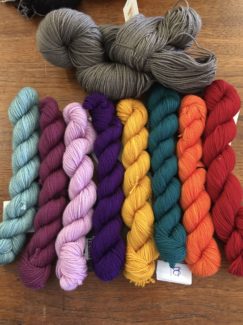 We can mix MC if you want.  Just let us know!
I want to introduce you to Luke, the Wool Enthusiast! He is a knitter/designer from Fishers, Indiana. We met him while he was teaching classes at Vogue Knitting in Columbus! Once we are back and the shop is open I have asked him to come and teach one of his designs, a brioche hat! I am going to start a sign-up, so let me know if you are interested. Here is the pattern: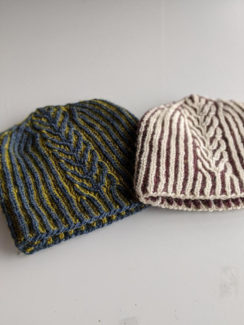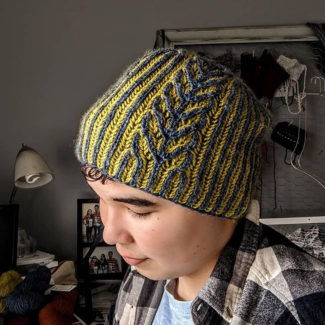 Follow him on Instagram- @woolenthusiast
Don't forget to follow me on Instagram- @susan_maks and facebook- Mass Ave Knit Shop
Stay Safe and Healthy.