HAPPY NEW YEAR FROM MAKS
The store will be closed January 1st – January 3rd. We wish you the best for the new year and will see you back in the store on Saturday January 4th at normal business hours.
The calendar may reflect classes available during the New Year's holiday.
Please note that all classes during this time have been cancelled.
SPRING RETREAT
Cost $25.00 for the weekend.
Includes Event Bag, Patterns and 20% discount for yarn purchases
(except Hedgehoge, Liberty Wool Print and MAKS Cakes).
More details to follow.
ROVING INDIANA
Explore the yarn trail! February 28 – March 9, 2020.
Order your special edition yarn and
passport beginning January 31, 2020.
JANUARY OVERNIGHTER
Join us on January 11, 2020 for our Overnighter.
Cost $20.00 and a bring a snack to share.
We'll start at 7:30 p.m. till ??
I have to apologize for taking so long  to post!
But, we have so much going on!!
1.Needles and Beads Class- this Saturday, February 22 from 10-12. There are still spots available in this class. Come away with and amazing pendant and necklace using handmade beads made by Ann Tudor and recycled needle pieces from Bur Oak Studio! Cost is just $50 for the class – all materials included. Call the shop to sign up!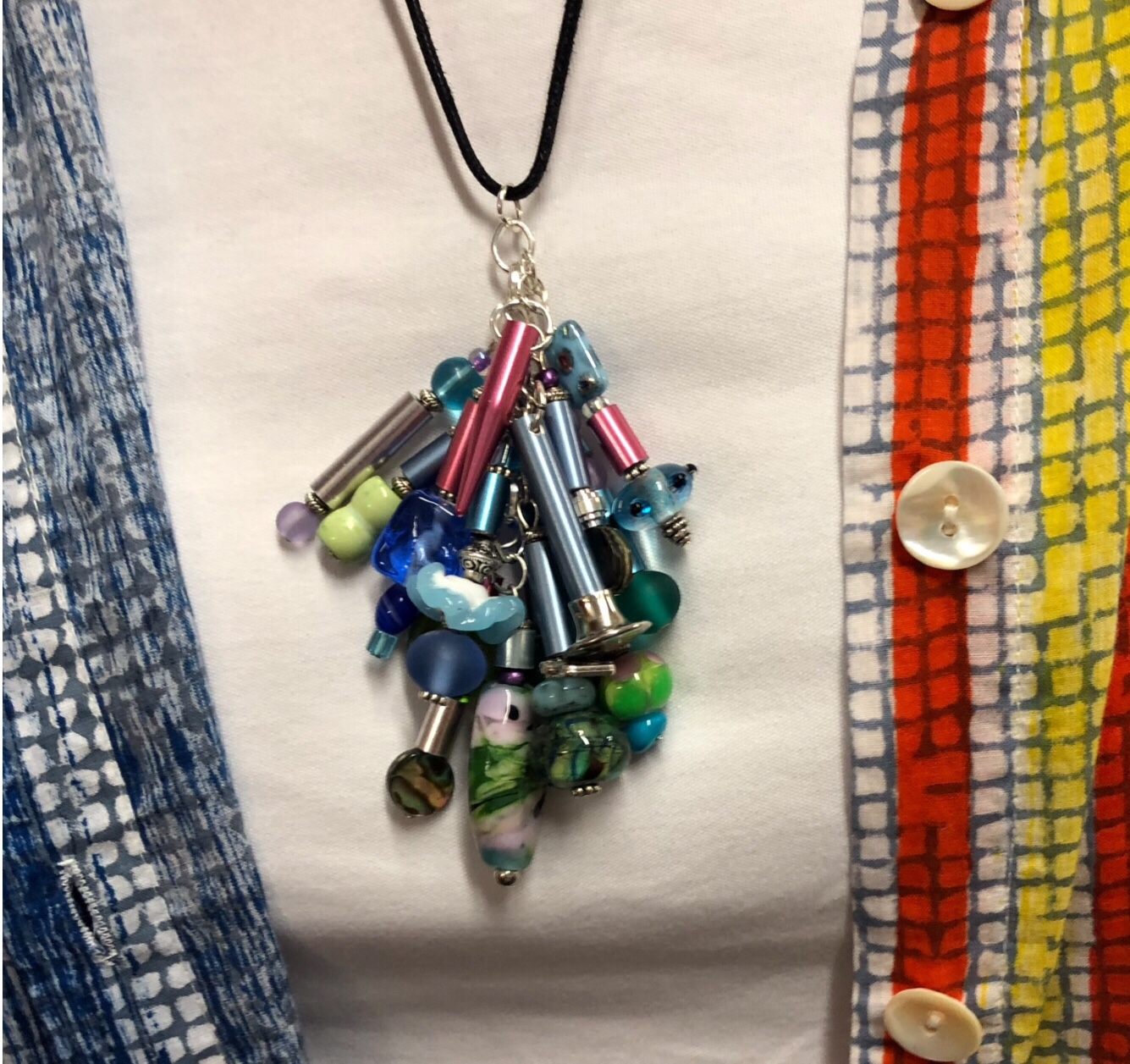 2.  Roving Indiana Yarn Crawl- the crawl starts in just a couple of week! Dates are February 28- March 8. The Yarn Crawl Yarn and Passports are in the shop.  If you preordered the yarn and passports, we have set those aside for you.  If you haven't ordered, you can come in and buy your yarn before the crawl starts.
The cost is $32.00 until the crawl starts.  On February 28 the cost goes up to $36.00 a skein.  Here are our 2 samples knit in the YCY-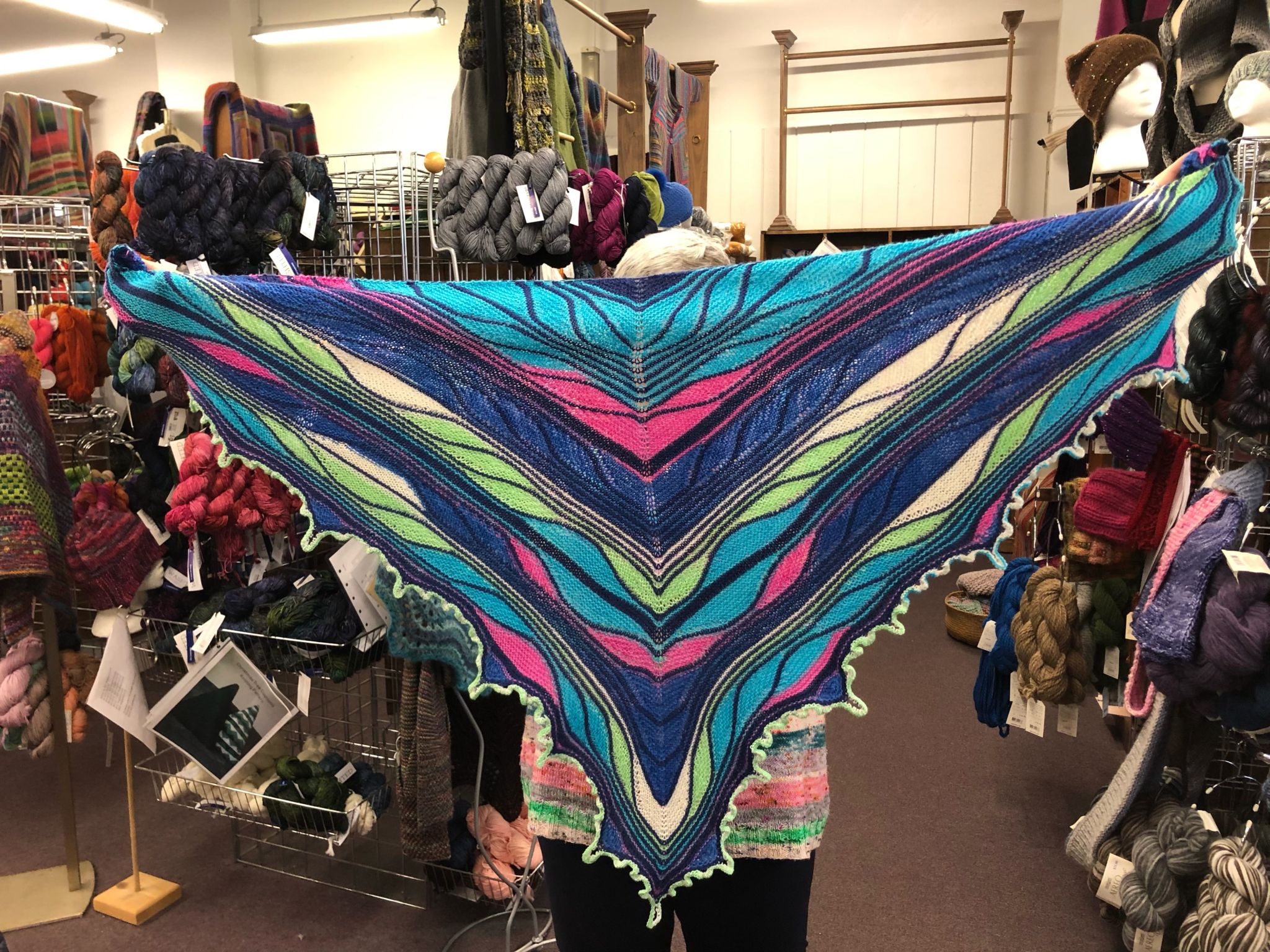 The Butterfly Shawl takes 2 skeins of the BIG STRIPE and a single skein of contrast color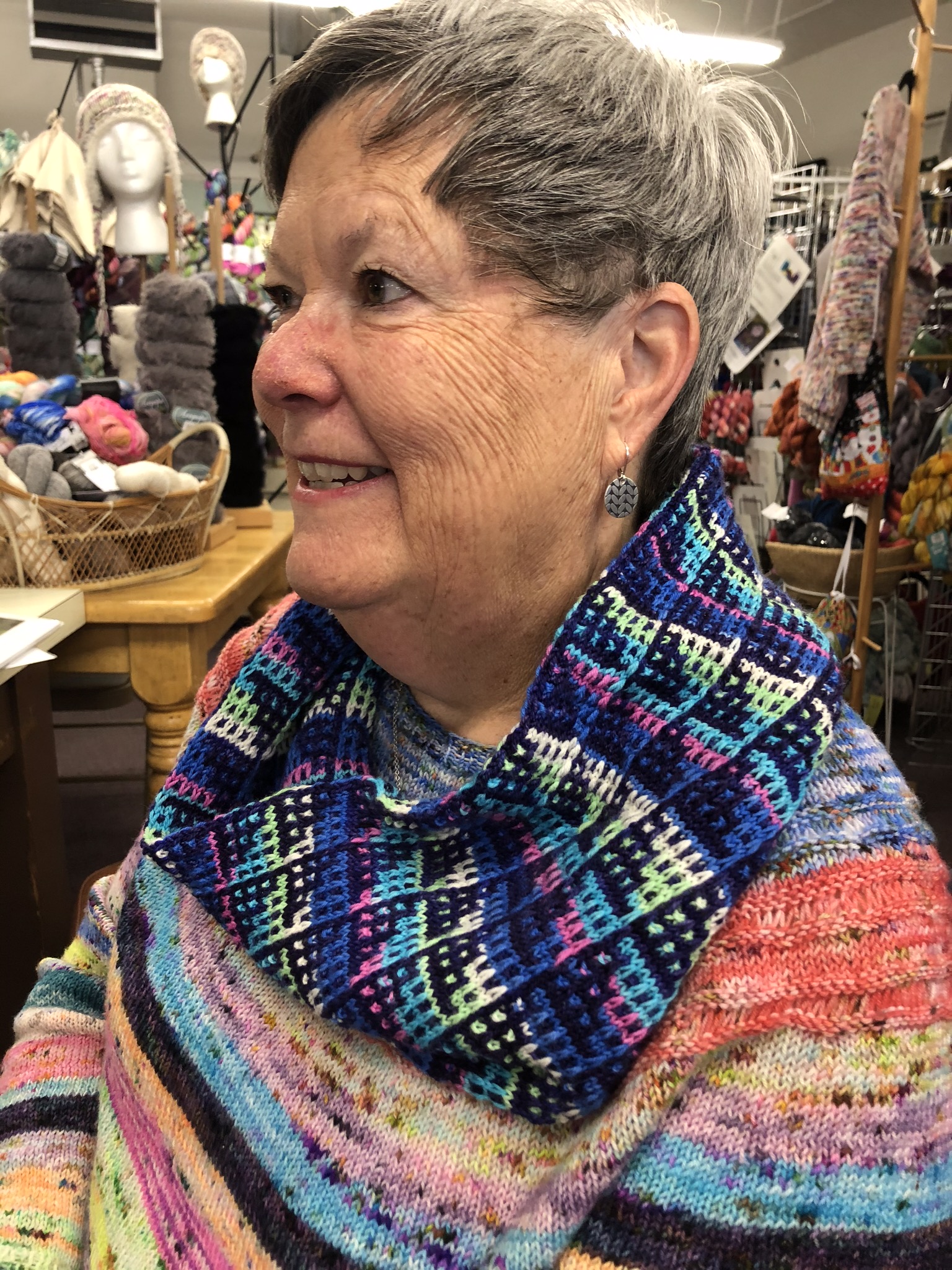 The cowl takes 1 skein of the SMALL STRIPE and 1 skein of a contrast color.
Passports- $7.50- saves you 10% on ALL IN STORE YARNS (except yarn crawl yarn) at participating crawl stores!
Next Overnighter- April 4th
SPRING RETREAT- APRIL 17-19.
COST -$25.00 for the weekend- 20% discount on MOST in store yarns! Don't forget to sign up before it is full.
I have to share my Trianglegram shawl by Westknits! I am in the process of working the 2 color I-cord!  And then I will add tassels at the point using my left over yarn! I used a 20 skein mini kit from Wonderland Yarns.  More kits are arriving Friday or early next week! I will post available colors.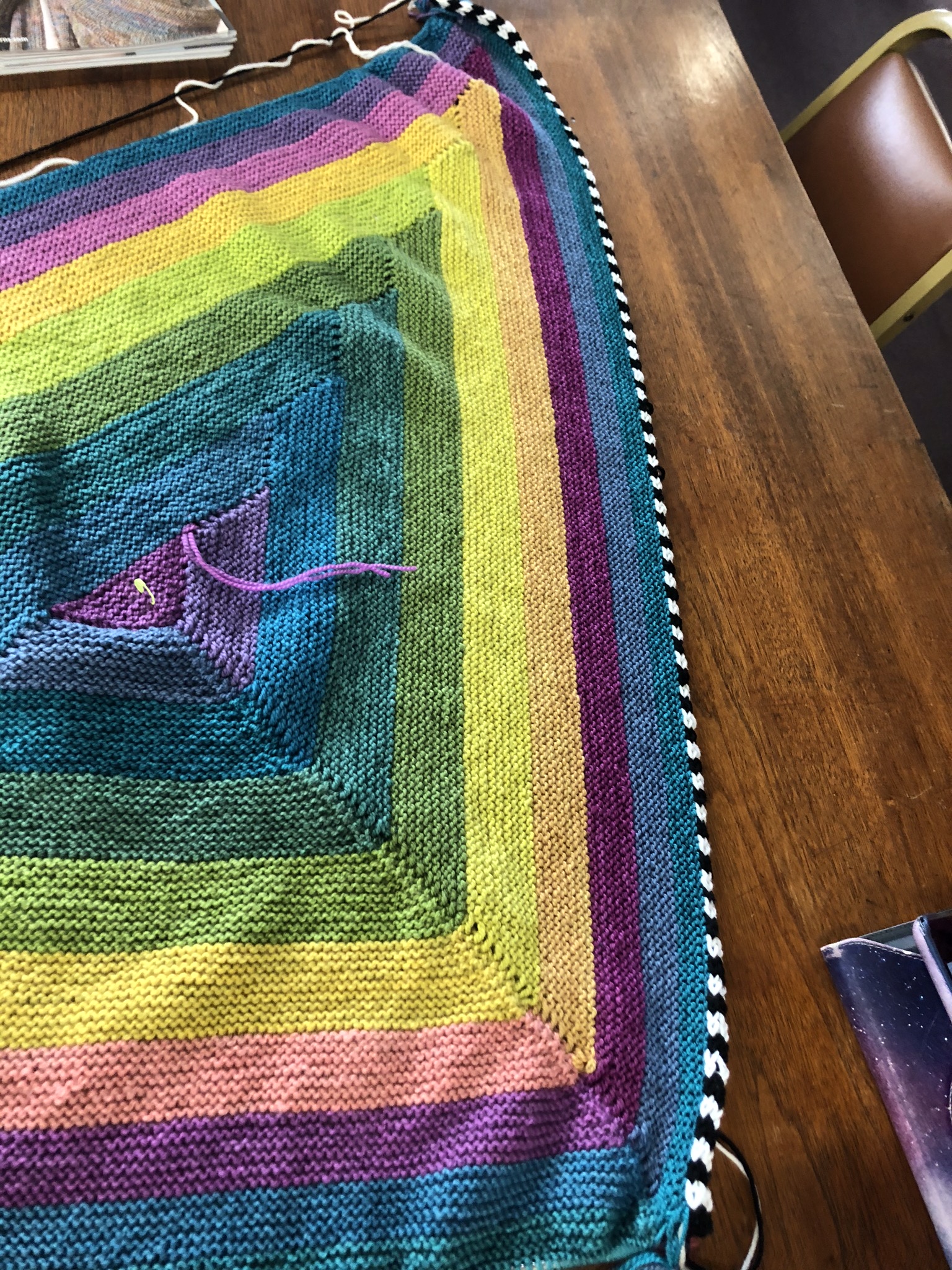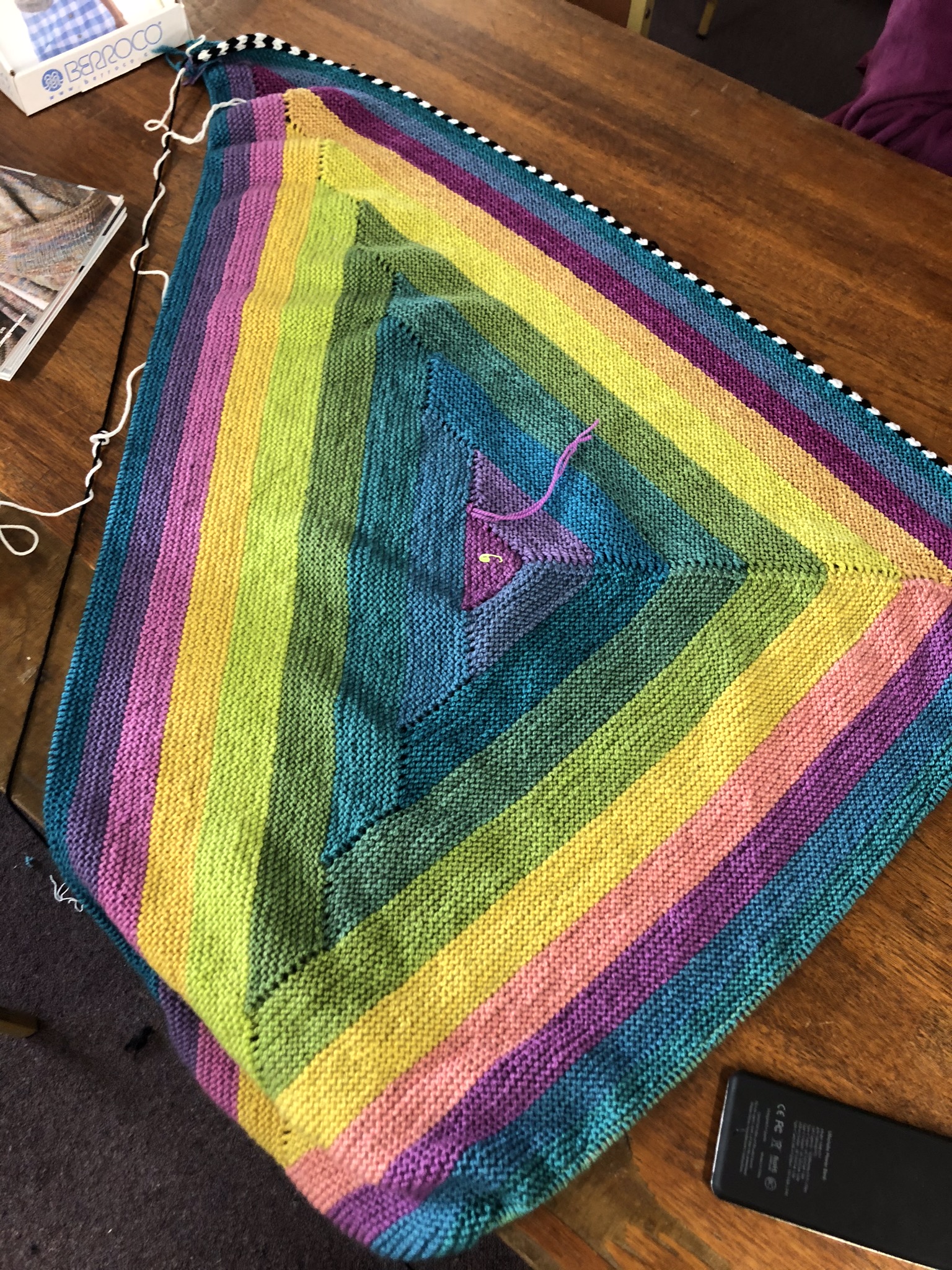 HEADS UP ON THE BUILDING! John and I have put the building on the market and as soon as we have some serious interest I will start to really look for a new location for the shop.  I just wanted to keep you all in the loop!