SPRING RETREAT
Cost $25.00 for the weekend.
Includes Event Bag, Patterns and 20% discount for yarn purchases
(except Hedgehoge, Liberty Wool Print and MAKS Cakes).
Stay tuned, a final decision will be made shortly on this event.
Store Closed
Mass Ave Knit Shop will be closed
until April 7th. Please check our site
and your emails for further information.
APRIL OVERNIGHTER - Cancelled
Due to the closing of non-essential businesses,
we will be cancelling the April Overnighter.
Stay Safe and Healthy
Wash your hands like you just finished
a bowl of chocolate ice cream and
you're about to knit with $200 yarn.
Stay safe and healthy, knit friends.
Most of you know Liza Crane and the work she does with Horizon House and the homeless of Indianapolis! This is a request she sent to me today!! Please help out if you are able!
Can you put the word out that I need fabric sewn masks for non-patient care use?
I'm running a safe recovery site for the homeless. 260 beds. Lots of staff.
Thanks, ❤️Liza
Mail the masks to Liza Crane at 615 E Minnesota St. Indianapolis, IN 46203 or drop off at the shop on Monday.
Also, there are a couple of fun things coming up during our quarantine! We are still proceeding with the Malabrigo Dos Tierras Knit along. It uses 1 skein each of 3 colors in this amazing yarn! The pattern is Odyssey by Joji Locatelli and is free on Ravelry!  I am going to go to the shop on Monday to take orders if you want to join us! I will be at the shop from 11-2 pm. Just call and I can send you the yarn. I will post the colors of both on Facebook and Instagram!  If you are not signed up for either of those, call me at the shop and I can text or describe the colors in stock!!  You will want 24" and 40" size 8 needles. The pattern calls for size 11, but you will run out of yarn by using that size needle.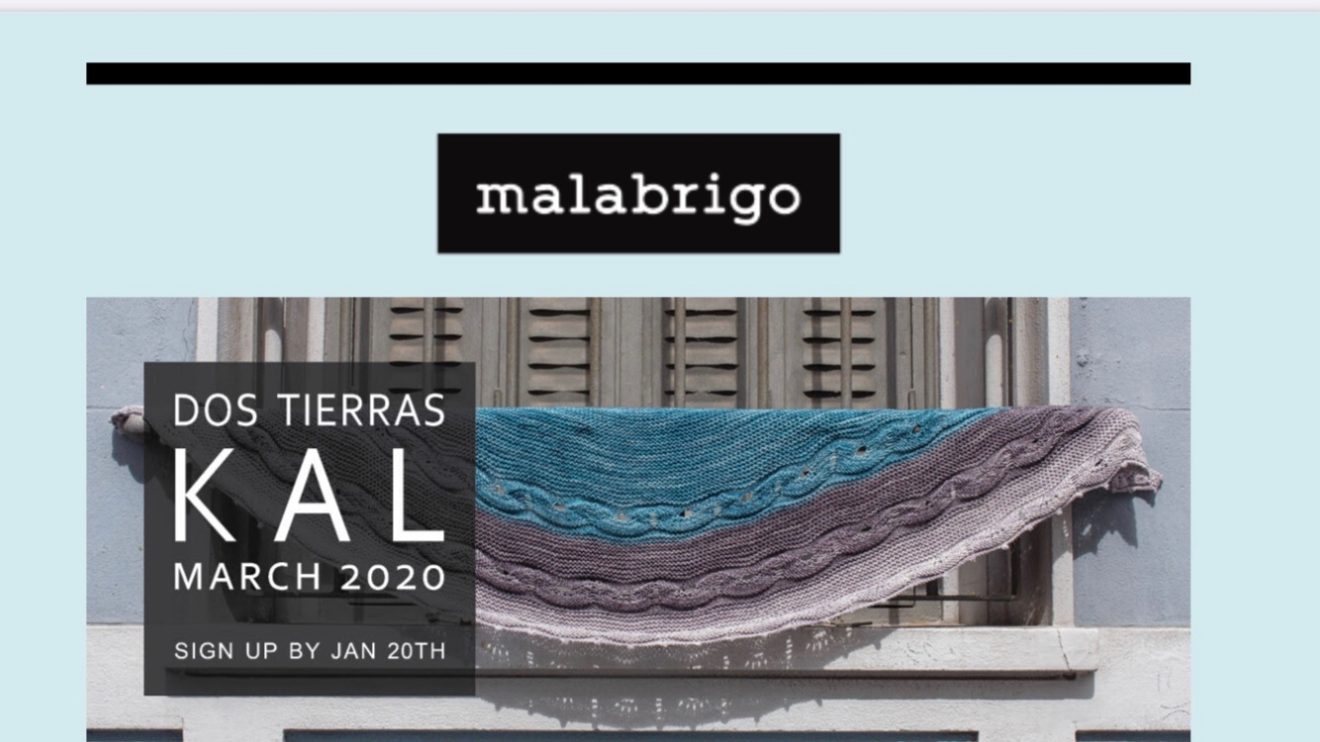 Also, Berroco has a knit along coming up! They are also doing drop ship to customers! There are Many Cardigan patterns that they are suggesting for the KNIT-A-LONG !  I will send out more info as I get it!
If at all possible sign up to follow me on Facebook- Mass Ave Knit Shop or Instagram- susan_maks. Both are easier and faster for me to get out information about what I am doing during the quarantine!
I hope you are all doing well! Message me or call me at the shop on Monday if you need ANYTHING!
Susan
I just received this message from Susan Roderer, who has taught our beginning knitting class for many years!! Please go through your sewing boxes , or in my case junk drawer and send them your left over or new elastic!!
New Hope of Indiana is in desperate need of 1/4 inch elastic. They are making masks because they can't get any. Do you feel comfortable asking on the Mass Ave blog? The elastic can be mailed to New Hope of Indiana. 8450 N Payne Rd Ste 300, Indianapolis 46268
Stay safe! Send me your projects and I will post on the blog!