Stay Safe and Healthy
Wash your hands like you just finished
a bowl of chocolate ice cream and
you're about to knit with $200 yarn.
Stay safe and healthy, knit friends.
Truncated Business Hours UPDATED!
Adding additional hours! MAKS is currently open for order pickup on Mondays, Thursdays and Saturdays from 11-3. Limited browsing will be allowed during open business hours, to ensure your safety we will be limiting the number of customers allowed in the store at one time. You may call ahead to find the best times.
Voting will finish in just two days. If you haven't voted yet, I encourage you to do so. And while you're waiting, we've created a pattern for you to knit. From my personal experience, knitting while waiting to vote had several interesting benefits. Firstly, it depoliticized the whole process. During my two hour wait, not one person asked who I was voting for or what was my party affiliation. It did however start several conversations about the project, about my knitting, and seemed to make the time pass much faster.
No matter what party you vote for it's important to exercise your right to vote. Please enjoy this project while you wait and I hope you'll make some new knitting friends in the process. This pattern was developed by Susan while she was waiting in line to vote and uses Berroco Mochi, but can be used with any chunky weight yarn.
Stay safe and knit like there's no tomorrow.
Yours,
Dru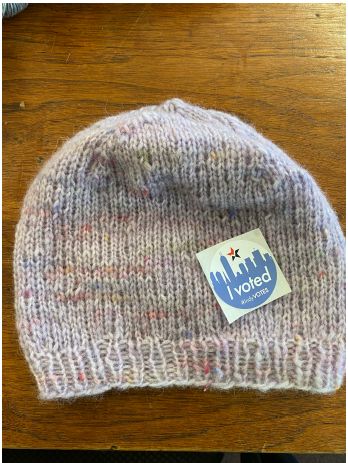 The store will be closed tomorrow November 1st, and starting Monday through November 12th orders can be placed on the website for pickup, shipping, or you may call the store during the current schedule with an order to be picked up, but there will be no in-store service during this time. Any orders placed for shipping starting November 3rd through November 11th will be shipped on November 12th. The store will reopen for current hours and business starting November 12th.