Announcing 2020 MAKS Fall Retreat
October 2-4, 2020
Cost $25.00 for the weekend.
Includes Event Bag, Patterns and 20% discount for yarn purchases
(except Hedgehoge, Liberty Wool Print and MAKS Cakes).
Anyone who signed up for the Spring Retreat will receive a free seat at the event this fall.
Truncated Business Hours UPDATED!
Adding additional hours! MAKS is currently open for order pickup on Mondays, Thursdays and Saturdays from 11-3. Limited browsing will be allowed during open business hours, to ensure your safety we will be limiting the number of customers allowed in the store at one time. You may call ahead to find the best times.
Stay Safe and Healthy
Wash your hands like you just finished
a bowl of chocolate ice cream and
you're about to knit with $200 yarn.
Stay safe and healthy, knit friends.
GRAND OPENING MAKS ONLINE
We are now accepting online orders available for shipping and curbside pickup during our truncated business hours.
This year has been anything but normal, so we're going to continue with the momentum. This year for our LYS 2020 Celebration, MAKS is offering an online sale of 10% off everything in the shop. (I know right? Susan said that and I had to ask her twice if I heard right!)
So, Saturday, September 12, 2020 you can shop online, take advantage of the sale, arrange for pickup or shipping and get 10% off your ENTIRE order with the coupon code: LYS2020
Along with our sale, some of our great vendors have reached out to with some additional amazing deals for the party:
Plymouth Yarn is offering a free pattern by Little Nutmeg Productions designed by Meghan Jones with ANY purchase of Plymouth Yarn. You will receive a code from the shop to claim your pattern.
Blue Sky Yarns is offering with any BSY Yarn purchase, one free pattern from their site or their Ravelry Collection
Berroco Yarns has pulled out all the stops, celebrating LYS all week long with online events leading up to the sale on Saturday. Please check out their Facebook and Instagram accounts for details and events…
Please note, most of the codes going out for additional vendor give aways are time sensitive, so we will reach out to you even before your order is shipped or picked up so that you don't miss out on the free stuff!
The fun doesn't stop there either, Susan has been working on some sweet treats to be included in your purchases and there might even be a door prize awarded!
So please join us in celebrating LYS2020. You are the best part of us and we thank you for your continued support throughout this year and beyond!
Stay safe and knit like there's no tomorrow!
Dru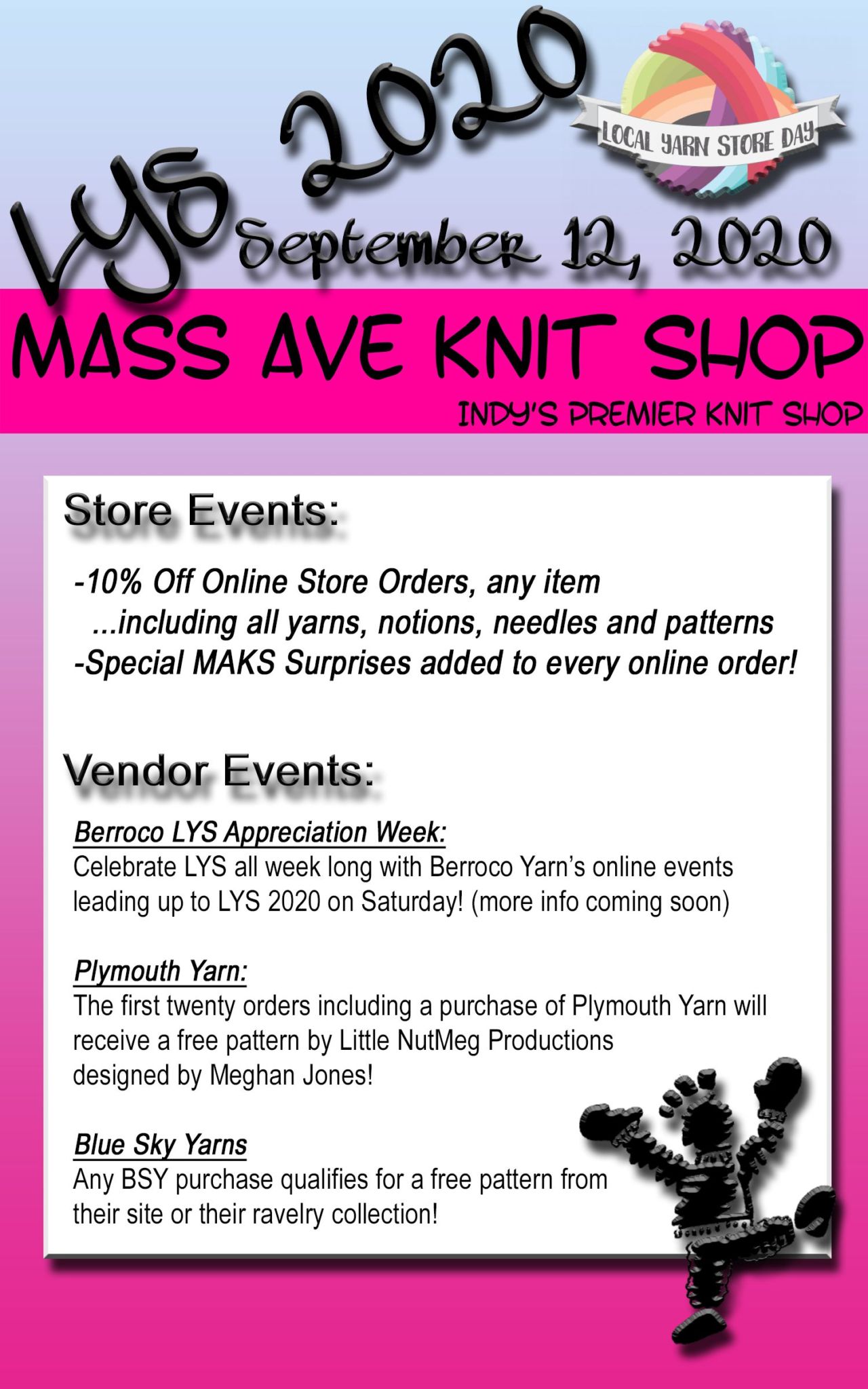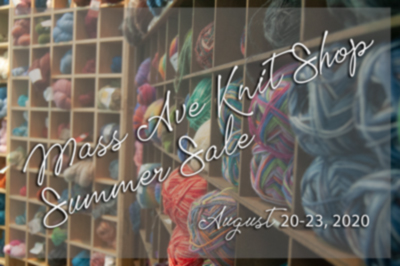 This year's MAKS Summer Sale will be August 20-23rd, 2020. To help with social distancing and still getting your yarn fix, this year we will be offering a new option for the sale. We are offering 30% on all yarn purchases through the online shop, available for shipping and pickup. All sales in-store are at 25%. The sale includes all yarns except for Liberty, Hedgehog, Knitted Wit, and MAKS yarns and kits.  To take advantage of the sale pricing online use the coupon code "SUMMERSALE".
So shop at home from Thursday at 11:00 a.m. to Sunday at 4 p.m. and save an additional 5% on your purchases during the event!
For in-store sales, we will be temporarily returning to our normal business hours for the sale:
Thursday 11-7
Friday 11-6
Saturday 10-4:30
Sunday 12-4
Remember coupon code "SUMMERSALE" for 30% off online shop sales!
Stay safe and knit like there's no tomorrow!