Truncated Business Hours UPDATED!
Monday 11:00 am – 3:00 pm
Tuesday Closed
Wednesday Closed
Thursday 11:00 am – 3:00 pm
Friday 11:00 am – 6:00 pm
Saturday 10:00 am – 4:30 pm
Sunday 12:00 pm – 4:00 pm
I Knit...
What's your superpower?
Don't Know What To Knit?
Try a Kit! Shop our new section of kits at MAKS Online Cart.
I said to myself...
I should do something today besides knit.
And then I laughed and laughed.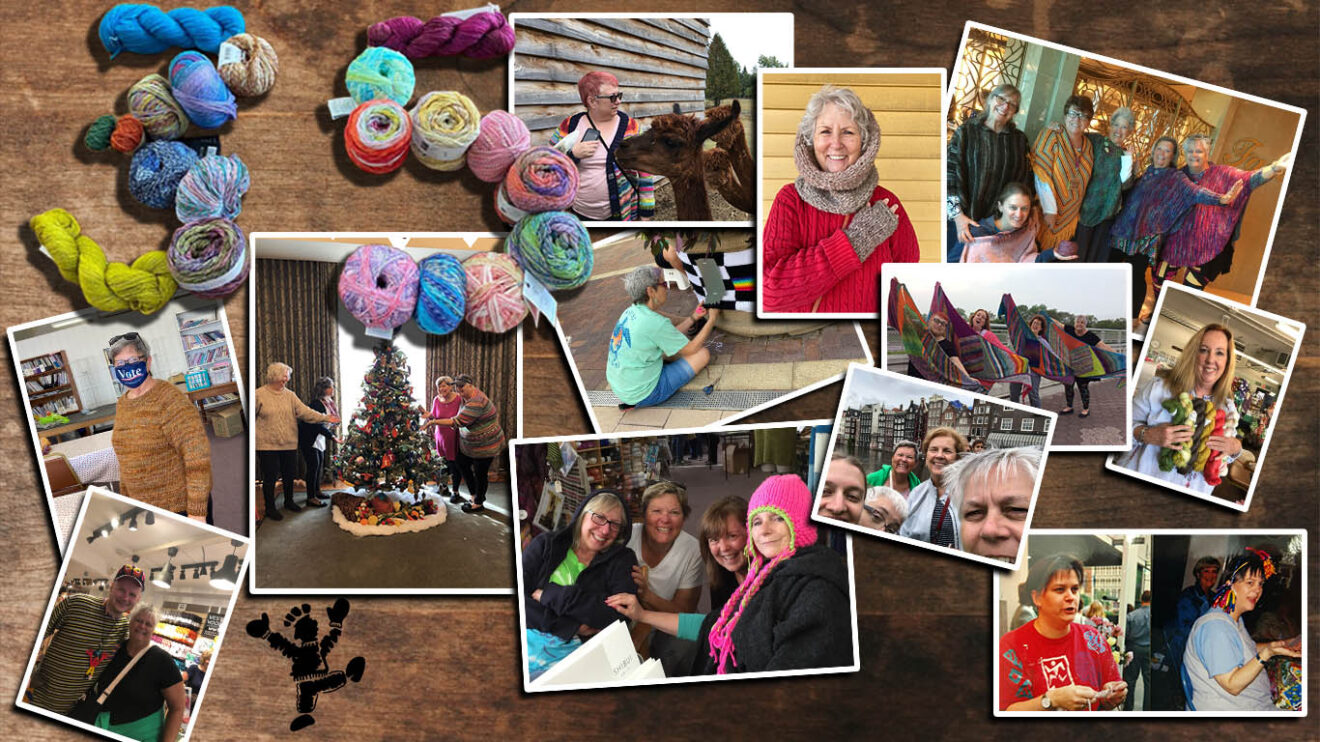 Celebrate 35 years of MAKS with our Annual Anniversary Sale: June 22-25, 2023. We're planning some great times and amazing ideas for our annual sale this year. We're 35 years old!
We are featuring four days of 35% off yarns, excluding MAKS (Advent Calendars), Wabash Woollen Works, and Created 4U by Laura. Come stop by the shop and visit (bring some knitting and sit a while). Or if you'd rather, you can do your shopping online with code (MAKSis35).
Hours for the sale this year are Thursday and Friday 11-6, Saturday 10-4:30, and Sunday 12-4. We will be giving away door prizes during the event.
See you there!
MAKSDru
FUN NEW STUFF FOR THE MONTH OF JUNE!
1. Baah LaJolla Monthly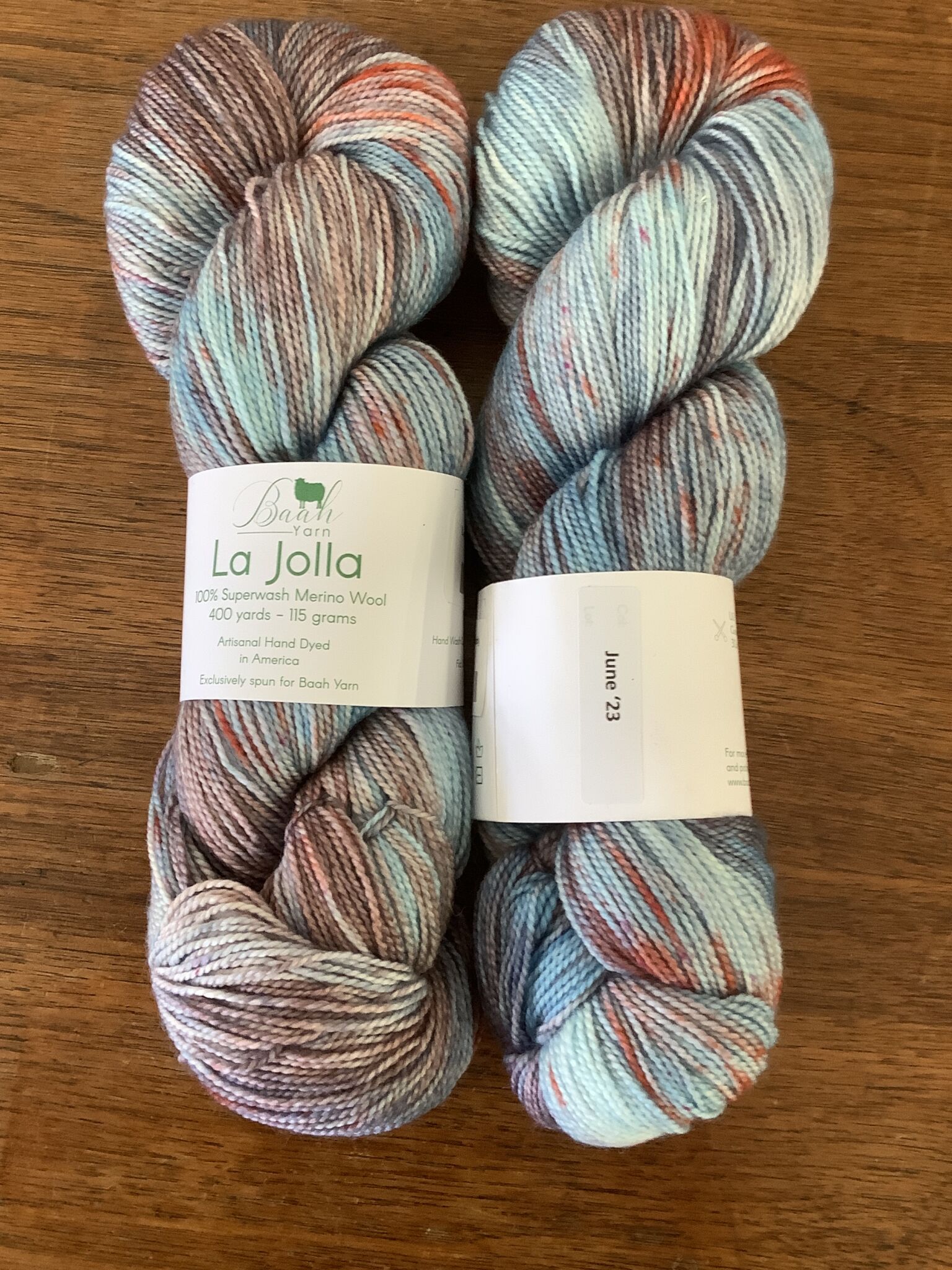 This color is just amazing, as it is alway is!
2. Knitted Wit National Parks / Memorials-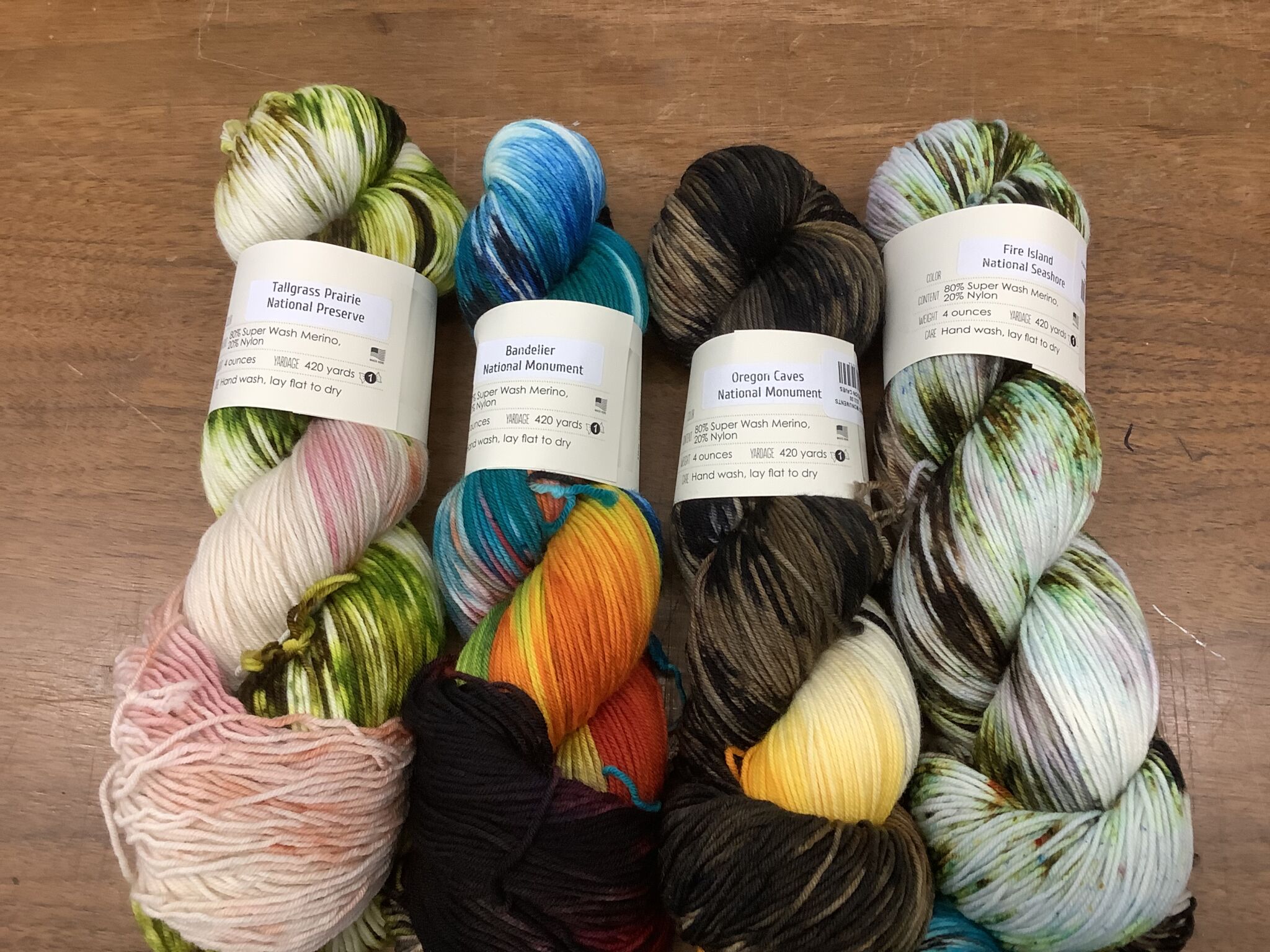 Tall Grass Prairie National Preserve, Bandelier National Monument, Oregon Caves National Monument,and Fire Island. The fingering weight yarns has 420 yards per skein. 80% Superwash Merino and 15% Nylon.
Each month, for 2 more months, we will have 4 new Parks! Check it May parks as well.
3. Emma's Yarns- the fiber for this month is Splendid Singles in 4 new colors-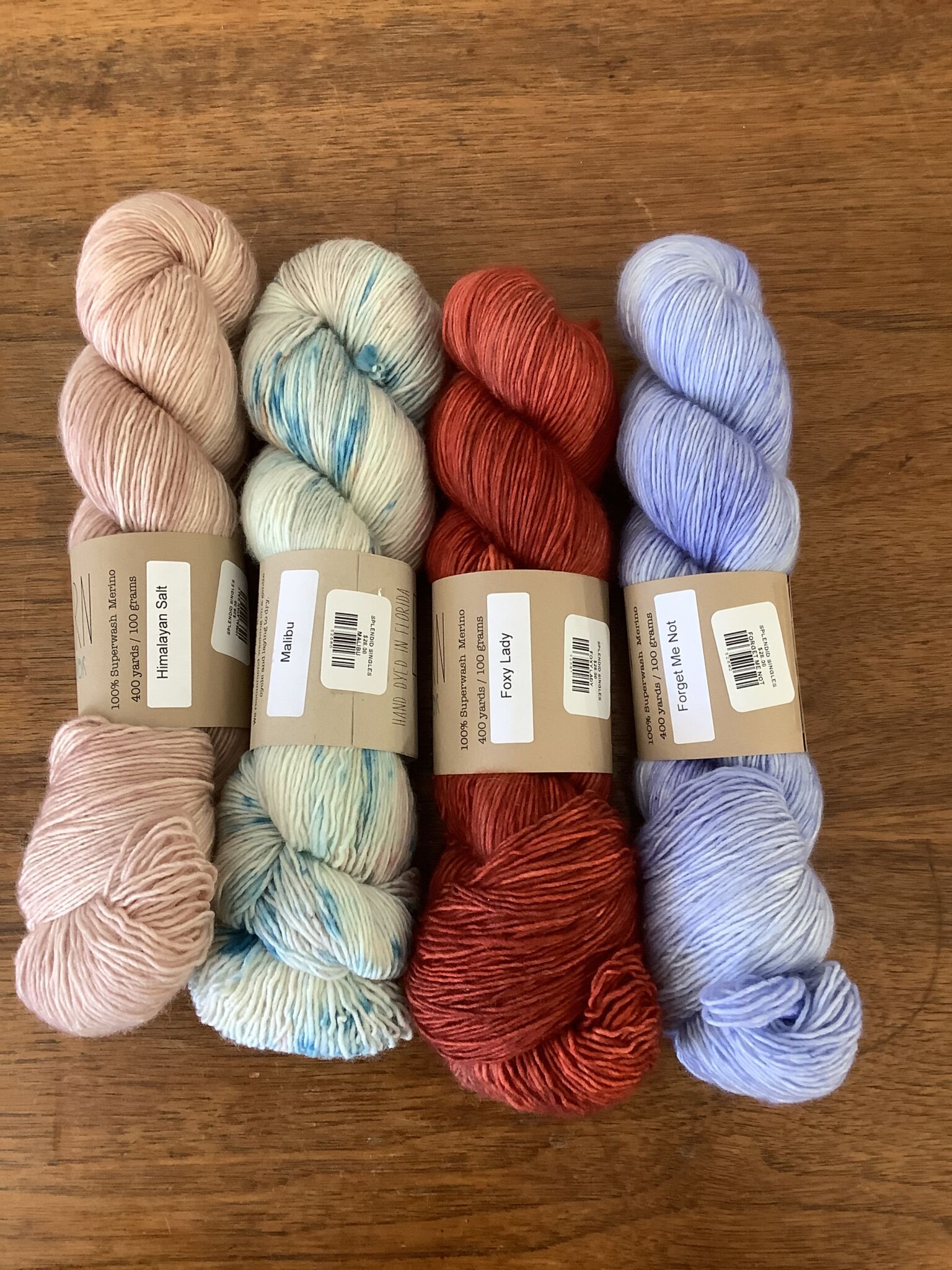 Himalayan Salt, Malibu, Foxy Lady, and Forget Me Not.  Splendid Singles are fingering weight single ply with 400 yards per skein! 100% Superwash Merino.
4. 3 NEW COLORS OF THE CREATED 4 U BY LAURA.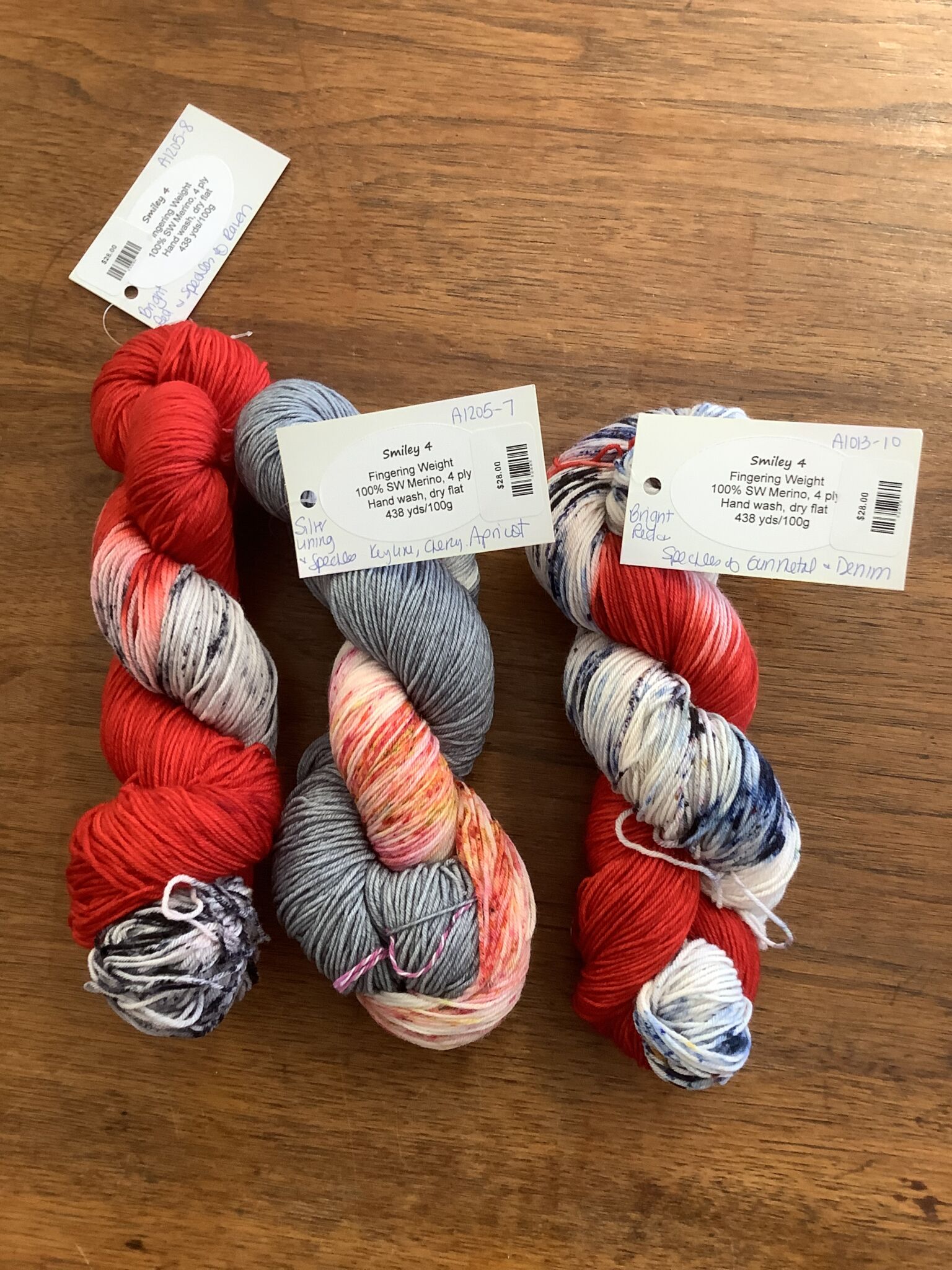 A1205-8- Red with black and white speckle, A1205-7- Grey with pink, cream and peach speckle, and A03-10 is Red with Navy and cream speckle.
All the new yarns are available on line!!
June 3- Late Night Knit- 5:30- midnight (that is when Cindy starts flashing the lights to send everyone home). $20 plus a snack to share- I will get the pizza and sodas.
June 10- Make 3 sets of earrings with Jennifer from Bur Oak for just $40! There are still some spots so contact the shop to grab a space!!