I feel like I have not posted in forever, so there is lots to tell you about!! (Don't forget to tap the underlined title to get all the pictures!)
1. In Store Retreat is just a month away! Have you signed up? Dates are April 28-30. Hours are fri- 12-9pm, sat.- 10am-9pm, and sun.- 10am- 4pm. You are free to come and go as you need.  If you can only come for a day it is still worth it. Cost is just $25 for the weekend which gets you a 20% disc on yarn, free patterns with samples knit up in new spring yarns and a shop bag!  Also, there are door prizes through out the weekend!  Please call or stop by so we have final numbers. (Thanks)
2. Huge shipment of Malabrigo Yarns arrived yesterday! This is just the RIOS!!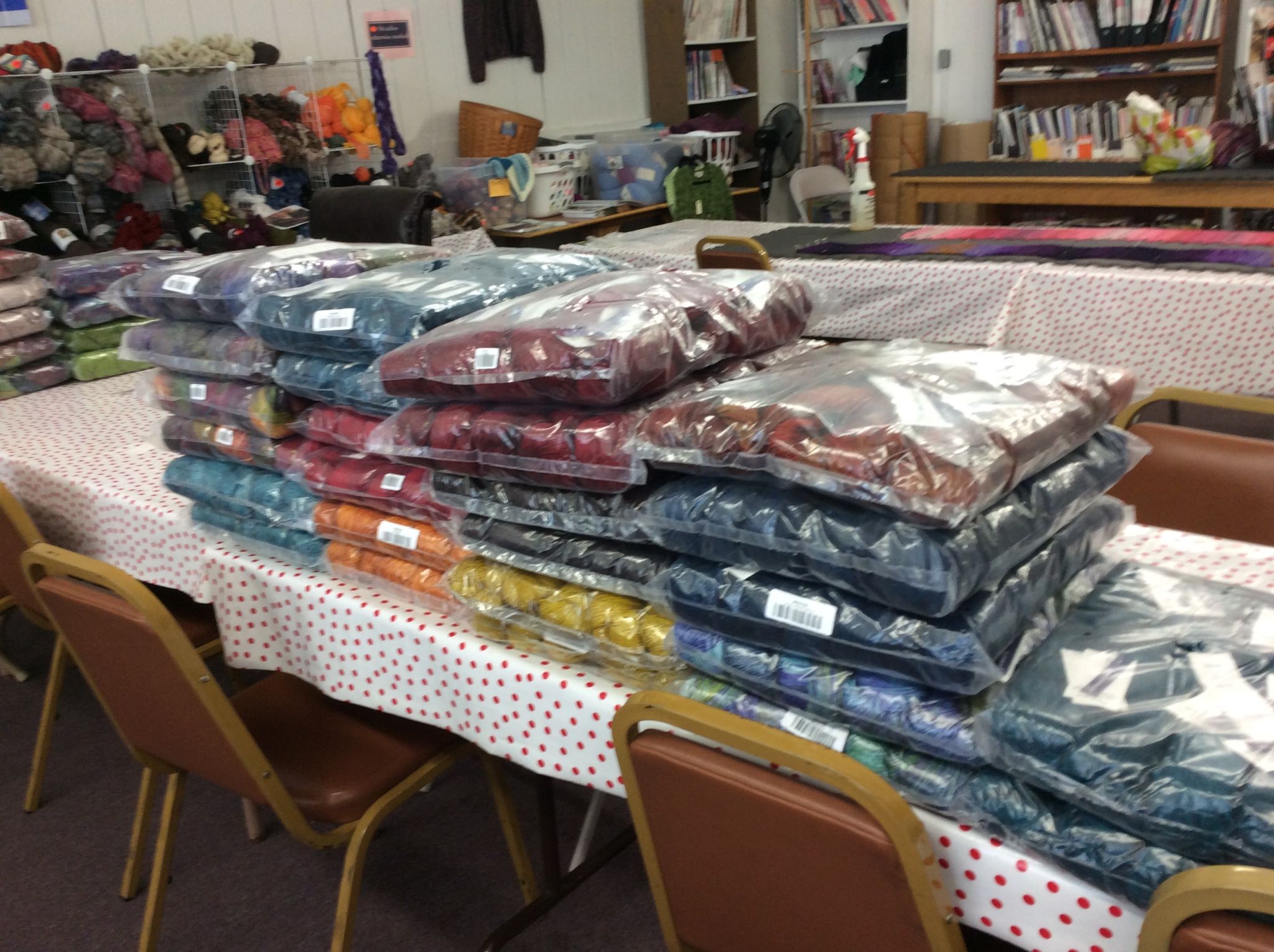 We also recieved 17 colors in Mechita, 15 colors of sock, and 15 colors of the NEW DOS TIERRAS!! Windfall!!
3. WE ARE KNITTING FRUITS AND VEGETABLES!! If you haven't heard yet, there will be a downtown bike ride on the April 29, (the weekend of the retreat), visiting sustainable gardens downtown.  We are , with your help, knitting fruits and vegetables for a fruit and veggie stand (being built by Bill Drake) to place on the cultural trail (across the street from the shop) during the ride!. We are also going to be a water stop, so we should get plenty of people checking out our produce!! This brings us to item 4!
4. OVERNIGHTER -Sat. April 8th.  We are asking participants at the overnighter to knit a veggie or fruit during the evening.  There will be NO CHARGE in exchange for your labor!! We will provide all the yarn and pizza and drinks.  We are asking for the usual donation of snacks, though.
5. We will have a meeting for the upcoming CRUISE TO THE NORTH EAST on Monday April 3 at 6:30. If you are interested, but haven't signed up yet you can join us for some extra info.  We will be discussing flights, excursion options and other things about the cruise.
6. Classes- Tech University- 6-8 PM- $15. Per class
April 4- INCREASES AND WHEN TO USE THEM
May 2- DECREASES AND WHEN TO USE THEM
June 6- BIND OFFS AND WHEN TO USE THEM
July 11- CABLES
Patch Quilt Afghan- Saturdays from 10-12- April 1, May 6, June 3, July 1, August 5, Sept 2, Oct. 14, Nov 4.  Cost:$65.00 plus materials. With Universal Deluxe Superwash you will need 5 balls of 1 color and 4 balls of 2nd color.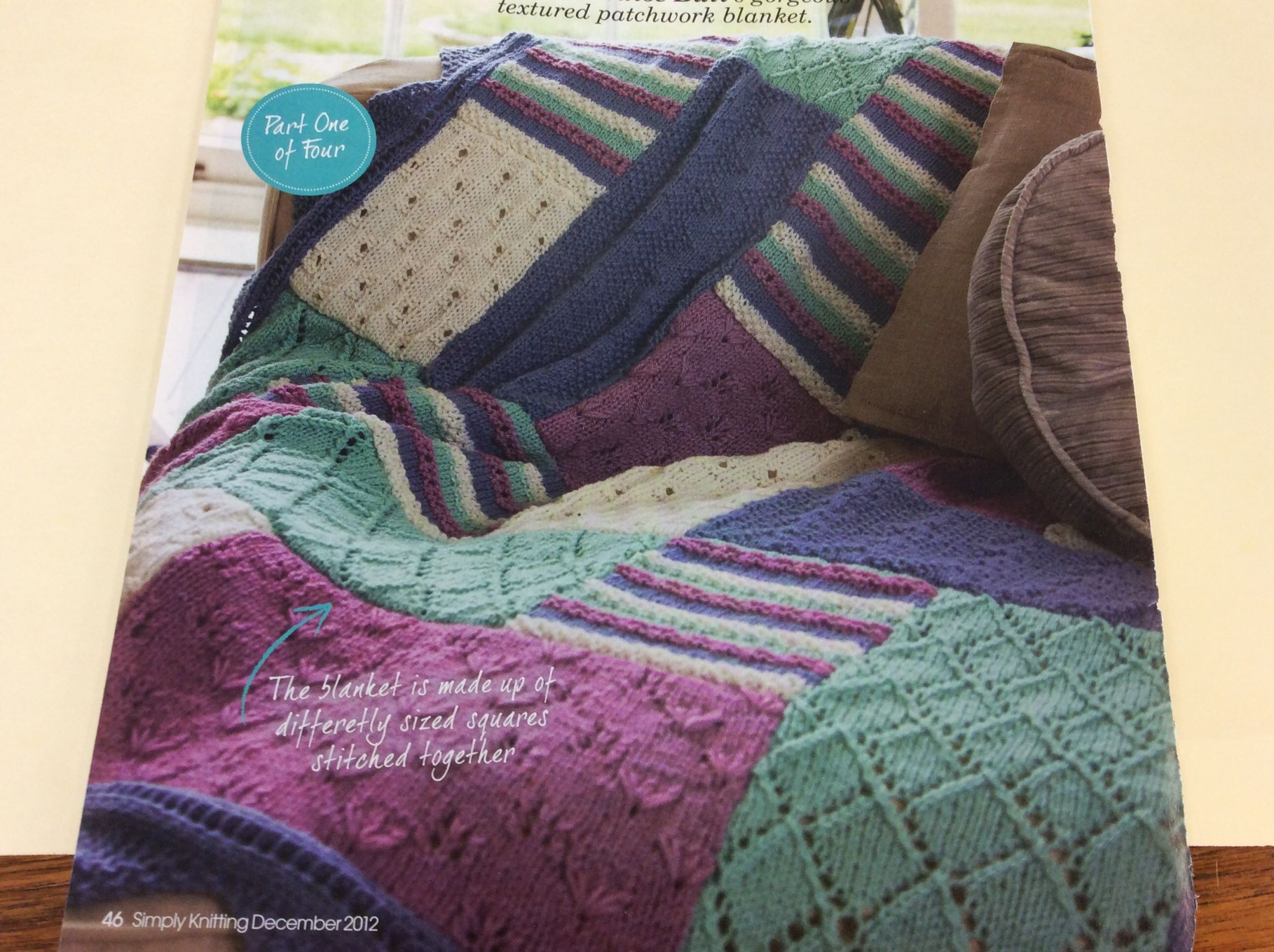 Call the shop to sign up for any of the classes.
7. FIBER FESTIVAL IS BACK!! Just in time for spring cleaning!  For those who have not participated in the past- this is an opportunity to clean out you stash!  Get the yarn you no longer want, the patterns from the 80's and needles you do not use anymore!  Here is the process: in ziplock bags you will put the items you want to sell with 2 -3×5 index cards- 1 card will have your name, phone number, and amount you want for what is in the bag, 2nd card will only have amount  you want for the items! We will be collecting items from Monday  may 1- Saturday June 3.
WE WILL NOT EXTEND THIS DATE!  ELAINE DOES A TON OF WORK GETTING ALL THE ITEMS READY AND WORKING THE SALE, SO PLEASE DO NOT ASK FOR AN EXTENSION!!
DATES : COLLECTION- MAY 1- JUNE 3
SALE DATES- SAT. JULY 15 ( FROM 10-1PM )AND 29 (FROM 10-.          12PM)
You will have a credit in the store for the items that are sold.  You have the option to have items not sold returned to you or we can donate.
SO START CLEANING OUT YOUR STASH!!