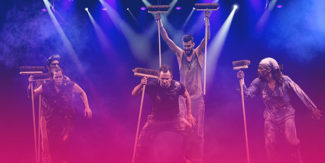 I loaded the wrong date for the trip to Wabash Woollen Works. To coincide with the show STOMP at the Honeywell Center in Wabash, the bus trip will be on April 10th, 2022 not the 30th.
We're still finalizing trip details, but the trip agenda so far is:
-Tour of Wabash Woollen Works
-Lunch In Wabash
-STOMP at the Honeywell Center @3:00 p.m.
You will be responsible for ordering your own tickets for the show and for your convenience, here is the ordering page at the Honeywell Center:
https://honeywellcenter.secure.force.com/ticket/#/instances/a0F3r00000R5dPIEAZ
Sorry for the confusion. And again as we get closer to the event, we'll have more details to share.
Have a great week!
Dru