SUMMER SALE 2.0 RUNS THROUGH TOMORROW (SUNDAY). ALL IN STORE YARNS ARE 20% OFF.
ELAINE FINISHED HER UNICORN PARALLELOGRAM SHAWL. (MARY IAS MODELING IT) IT IS FABOULOUS.
Just a few seats left on the bust to stitches for next saturday (august 8th). Call the shop to grab one!
New project that I wrote about in the last post, but I dont think the picture came theough. I will be a wide (24″0 shawl knit in 14 colors of Mohair Haze fro Rowan. The yarn is a little thicher than Kidsilk Haze and I thinke it will be just scrumptous to wrap up in this winter. It is a very easy pattern based on "WINTER FEVER" SHAWL on Ravelry.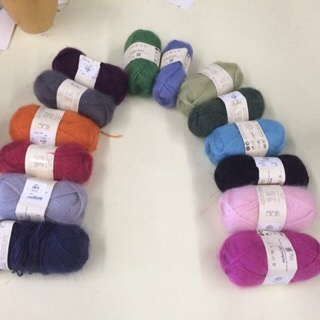 Here is my color arrangement. I have started with the Navy and will work through to the hot pink at the end. This is a great project that you really don't have to pay to much attention to as you are knitting.
We have another of the beautiful hand made Wooden Swifts made by a local woodworker (Bill Drake).

Come in and get it!