SUMMER SALE 2.0 STARTS TOMORROW AND RUNS THROUGH SUNDAY.  All in stock yarns will be 20% off!
I am almost finished with " True Friend " shawl.  Loving this project!  It so soft!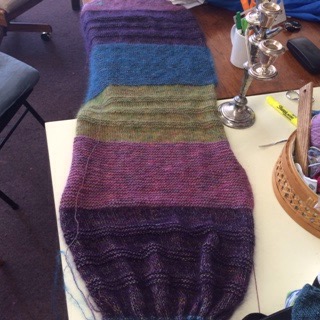 So, my good buddy, Julie, brought me a new pattern to look at!  Thanks alot!!  So I am using Rowans Mohair Haze- 1 each of 14 colors.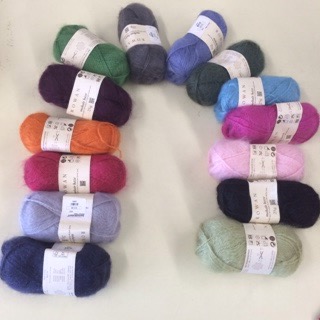 I think it will not be necessary to use all 14,   but I want to see each color knit up! It is a simple stripe scarf that originally calls for each ball to be divided in half.  The first half of each ball is knit until  every color has be knit.  Then the second half of each ball is knit using all the yarn.  I am going the much easier route!  I am going to knit through the whole ball until the yarn is gone.  I am going to knit it on a size 6 needle and shooting for around 20″ wide.  More pics to follow!
ONLY 9 SEATS LEFT ON THE BUS TO STITCHES MIDWEST!  CALL TO RESERVE YOURS!!   BUS RIDERS-LOOK FOR AN EMAIL FROM ELAINE IN THE NEXT FEW DAYS.  ALL QUESTIONS WILL BE ANSWERED! 
DRU'S CLASS (SATURDAY)  FOR THE BEGINNING WEAVING STARTS AT 10 AM!! BRING A LUNCH! 
See you tomorrow aty the SALE!!