Brand New from Malabrigo Yarns! MORA– 100% Pure Mulberry Silk fingering weight comes in some amazing colors and we have 12 of them. Diana, the huge hit colorway that first came out in the Mechita yarn last fall, is also availiable in the MORA! Cost is just $22 for 225 yards.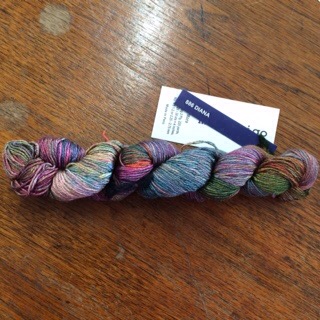 It is time again to sign up for the DREAM CLUB 2015! For $10 you will have a reserved skein of DREAM in COLOR yarn for 6 months starting in September. Each month you will purchase a different yarn in a brand new colorway with a pattern to go with it. I only have 20 memberships, so don't dawdle! Call the shop to hold your membership.
Ask and ye shall recieve! I had a customer ask for the beautiful floor swift that Bill Drake makes for me in a darker stain. Man, is it Gorgeous!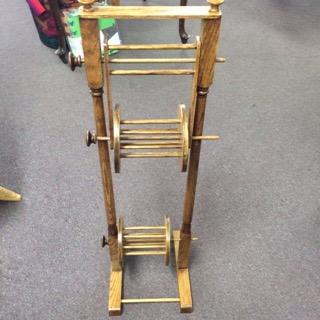 However, both of the new swifts have SOLD! So, Bill is making me some more. If you want one, just call the shop and you can pay and reserve one for yourself. cost: $200.00
Next Beginning Weaving class is Saturday August 1st!!
Time: 10 – 4ish. (bring a lunch if you want)
Cost : $40.00 ( instruction and loom rental) plus materials ($20.00 ) Call the shop to sign up.
SUMMER SALE 2.0-due to the problems we have all been suffering through this summer with the emails, I am re running the Big Summer Sale. All In Stock Yarns will be 20% off! Dates are JUNE 31-AUGUST 2! (Friday- Sunday).
overnighter this saturday (july 25)- 7:30 pm -? $20 plus a small snack to share with the group. I will get the pizza and the drinks.
FINAL FIBER FESTIVAL SALE- THIS SATURDAY (JULY 25) FROM 10 AM- NOON. CASH/ CHECK SALE ONLY.
I JUST HAD TO POST THIS PICTURE OF A JELLY FISH WE FOUND WASHED UP ON THE SHORE IN IRELAND! I JUST THOUGHT IT WAS SO BEAUTIFUL.