As a reminder, this weekend is the Ash & Bumble Trunk Show in-store at MAKS. I asked Ashley to introduce herself and she sent along this note for you. Stop by the shop from 11-4 this Saturday to meet Ash in person and check out her amazing trunk show!!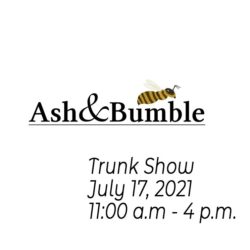 Hello, my name is Ashley, but my friends & family call me Ash!
I decided to start a small-batch, hand-dyed yarn business in February 2020 and I officially opened Ash & Bumble in April 2020. I definitely had my doubts about starting a business during a pandemic, but I truly believed that I could actually do this and just have fun with it!
I taught myself how to knit in 2016  because I desperately needed a hobby. I was hooked and decided to learn how to dye the yarn as a secondary hobby with a good friend in 2019. She has now become my assistant for events so you will see another Ashley alongside me 🙂
The main inspiration for my colorways and general aesthetic is nature. You will find that I absolutely love flowers, animals, and gemstones/minerals. That is why I decided to name my business Ash & Bumble. I adore bumble bees 🙂
I currently have two monthly yarn clubs called The Brilliance of Birds and Botanical Garden. I will soon be releasing an Endangered Species Collection on July 21st.
Ash & Bumble currently has 10 yarn bases (from lace weight to worsted weight) and over 30 colorways. 🙂
I look forward to meeting and chatting with everyone!
Ashley Layne
AshandBumble.com