With great sadness, we want to let our Knit Friends and Family know of the passing of Diana Laybold. The shop will be working together to plant Memorial Trees as a group. The store will match all donations from our knit community. Anyone wishing to join our donation can drop off or send money to the store. We will make our group donation on August 2nd, 2021 to give everyone who wants to participate time to make your donations. If you have any questions, please call the store.
Here is Diana's obituary with memorial arrangements: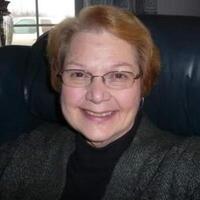 Diana L. Laybold, 72, of Plainfield, passed away July 15, 2021. She was born May 17, 1949 to the late Russell and Alberta (Bollock) Buis in Greencastle, IN. She received her BA at Indiana State University and her Masters in Education from Butler University. She was a member of St. Susanna Catholic Church, Plainfield, and the PEO. She was an English and Journalism teacher at Decatur Central High School for 36 years retiring as head of the department in 2009. Diana's vocation was teaching. But it was much more than that. A reading of her scrapbooks revealed thank you notes that ranged from making her English class enjoyable for a reticent student to being the best teacher ever to providing life lessons that went far beyond the classroom. These notes were more valuable than being chosen Teacher of the Year! Diana also had a majestic zest for life. She loved to travel, was an accomplished knitter, a voracious reader, an amazing cook and held a black belt in shopping. She lived her life to the fullest until her ALS diagnosis in January 2020. Her last trip was a riverboat cruise on the Danube December 2019. I will be forever grateful for the opportunity of caring for my sister this past year. There was a lot of laughter in her home. Diana is survived by her two sisters, Linda S. (David) Laird and Beverly (Floyd) Campbell; and her dear friends, Dennis Craig, Kim Love and John Gilmore. She was preceded in death by her brother, Jack Salts. A Memorial Mass will be held 1:00 pm, Friday, July 23, 2021 at St. Susanna Catholic Church, 1210 E. Main St., Plainfield, where friends may call at the church from 11:00 until service time at 1:00 pm. Burial will be in Forest Hill Cemetery, Greencastle. Arrangements by Hampton-Gentry Funeral Home, Plainfield.