Updating Store Hours:
We are returning to our regular Saturday hours (10:00 a.m. to 4:30 p.m.) this week. And if you missed the notification, we are now running our regular hours on Sunday as well (12:00 p.m. to 4:00 p.m.)
Here's the new total schedule until the next update:
Monday 11:00 am – 3:00 pm
Tuesday Closed
Wednesday Closed
Thursday 11:00 am – 3:00 pm
Friday Closed
Saturday 10:00 am – 4:30 pm
Sunday 12:00 pm – 4:00 pm
Beginning Knitting Class:
We will be restarting the Wednesday Beginning Knitting Class on September 16th with social distancing and precautions in place! Classes run every Wednesday (minus holidays) from 6:00 p.m. to 8:00 p.m.
2020 Fall Retreat:
We will be returning to the virtual format for the Fall Retreat and it will run from October 2nd – November 13, 2020. If you participated in the Spring Retreat, you are automatically signed up for the Fall Retreat. If you haven't signed up yet, why are you waiting? The cost is $25.00 and we will have patterns and 20% off coupons sent out to you during the event for the featured product/pattern supplies for that week. In the final week of the event, you will receive a 20% off coupon for yarn purchases from the online store (some exclusions apply). We really enjoyed the weekly ZOOM meetings and will continue those with some additions. We are currently working to add additional virtual meetings to the schedule to introduce you to yarn and pattern designers (more information coming soon!).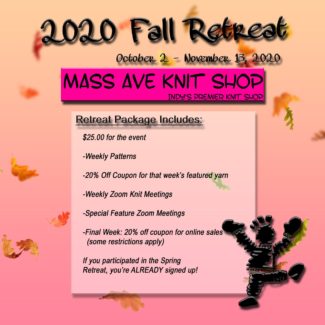 Stay Safe and Knit Like There's No Tomorrow!