The Roving Indiana Yarn Crawl starts tomorrow ((Feb 28 and runs through March 8) and we are all set!  We have our samples knit! We have extra passports and yarn ready for your purchase! Passports are just $7.50 and will get you a 10% discount on yarn at participating stores. The Roving Indiana yarn will go up to $36.00 (from $32.00) starting tomorrow.  If you want some before the price goes up, YOU MUST CALL US TODAY!!
During the crawl we have a few special events!!
Saturday Feb 29- Linda with Bags and More will be in the shop  from 11-3 pm
Saturday March 7-
Jennifer with Bur Oak Studio will be here from 11-3pm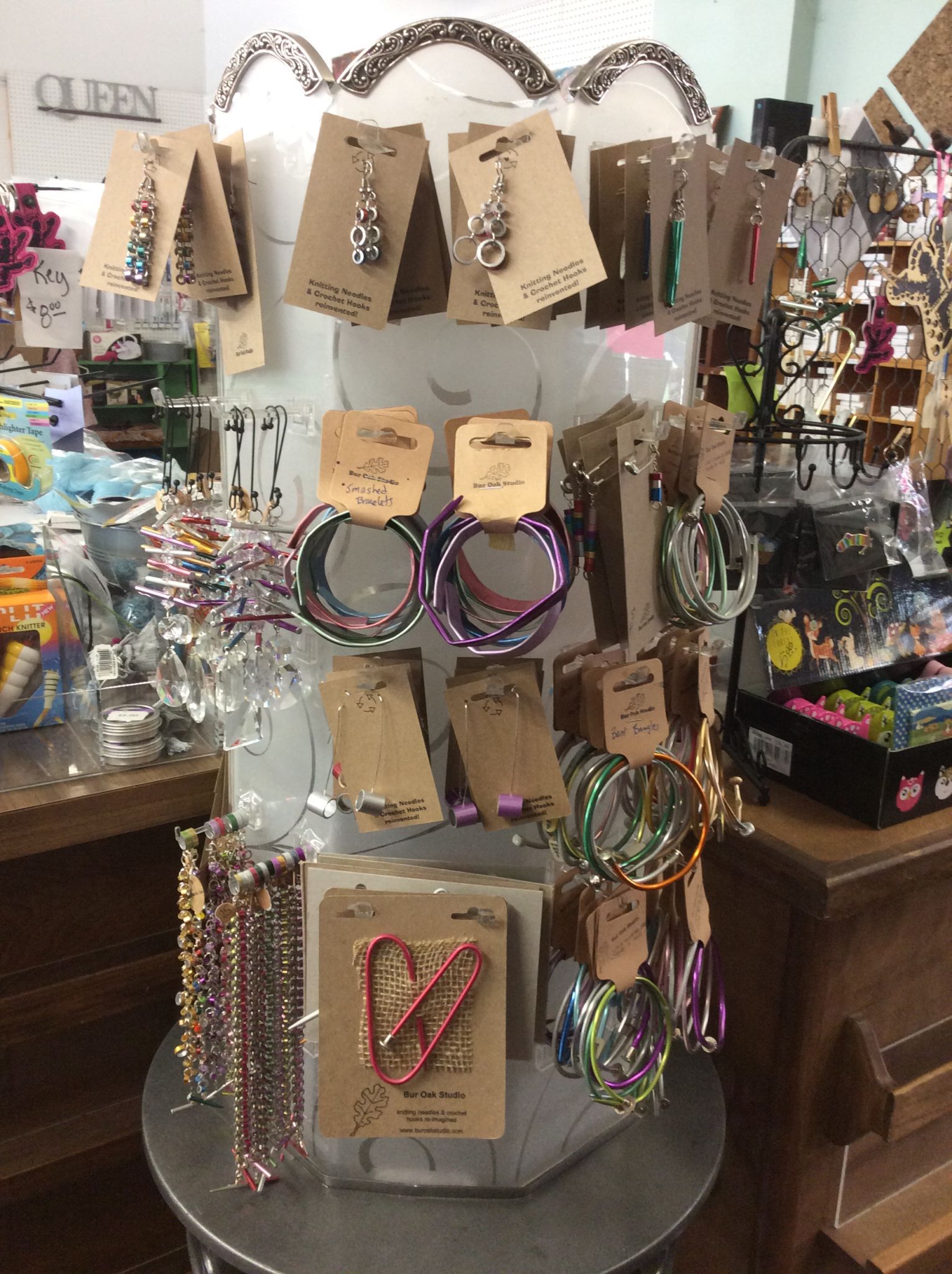 AND Susie Gregory, this years Roving Indiana artist will be in the shop on Saturday March 7 from 11-1 pm.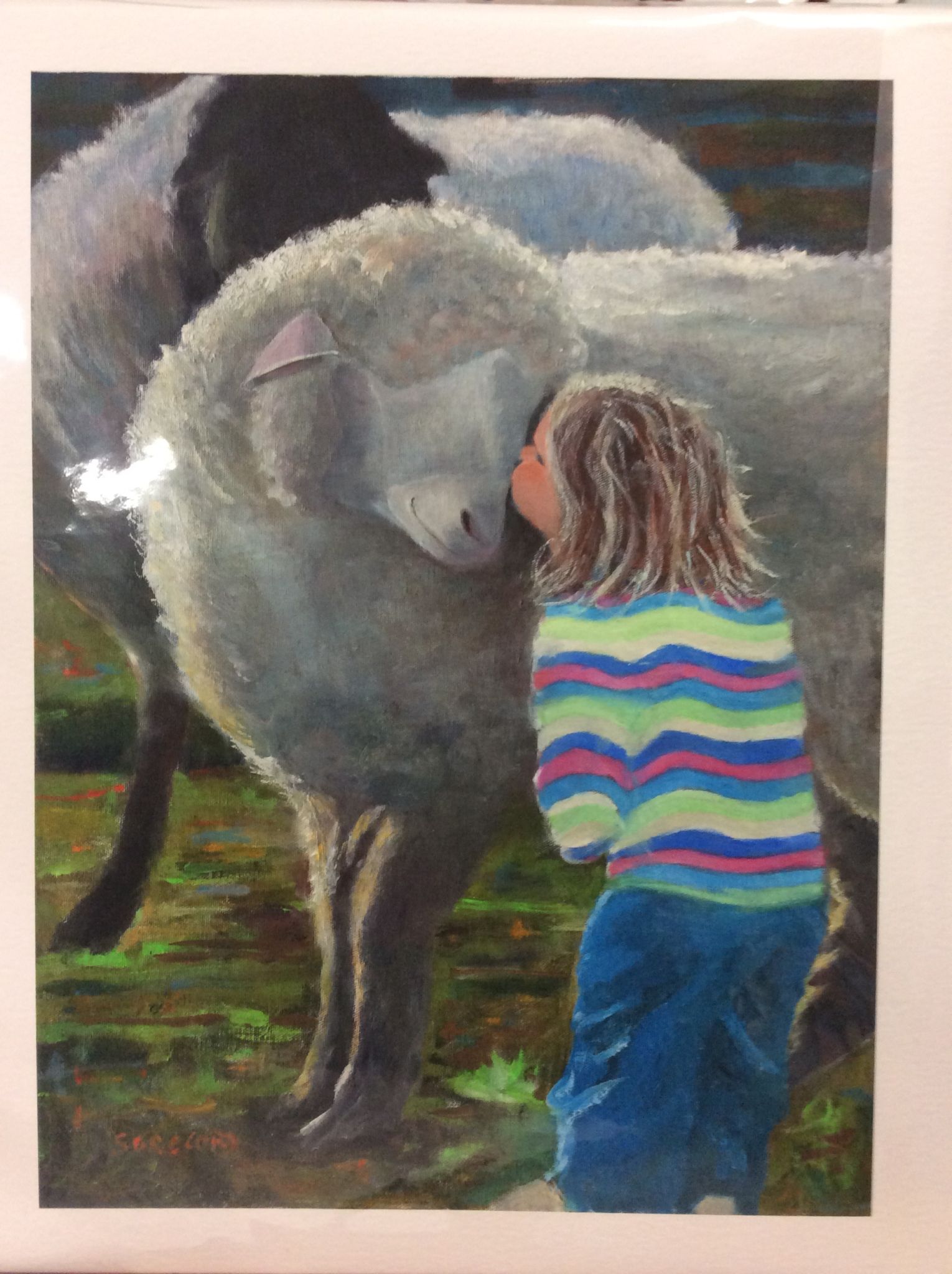 Butterfly- Papillo Shawl pattern by Marinja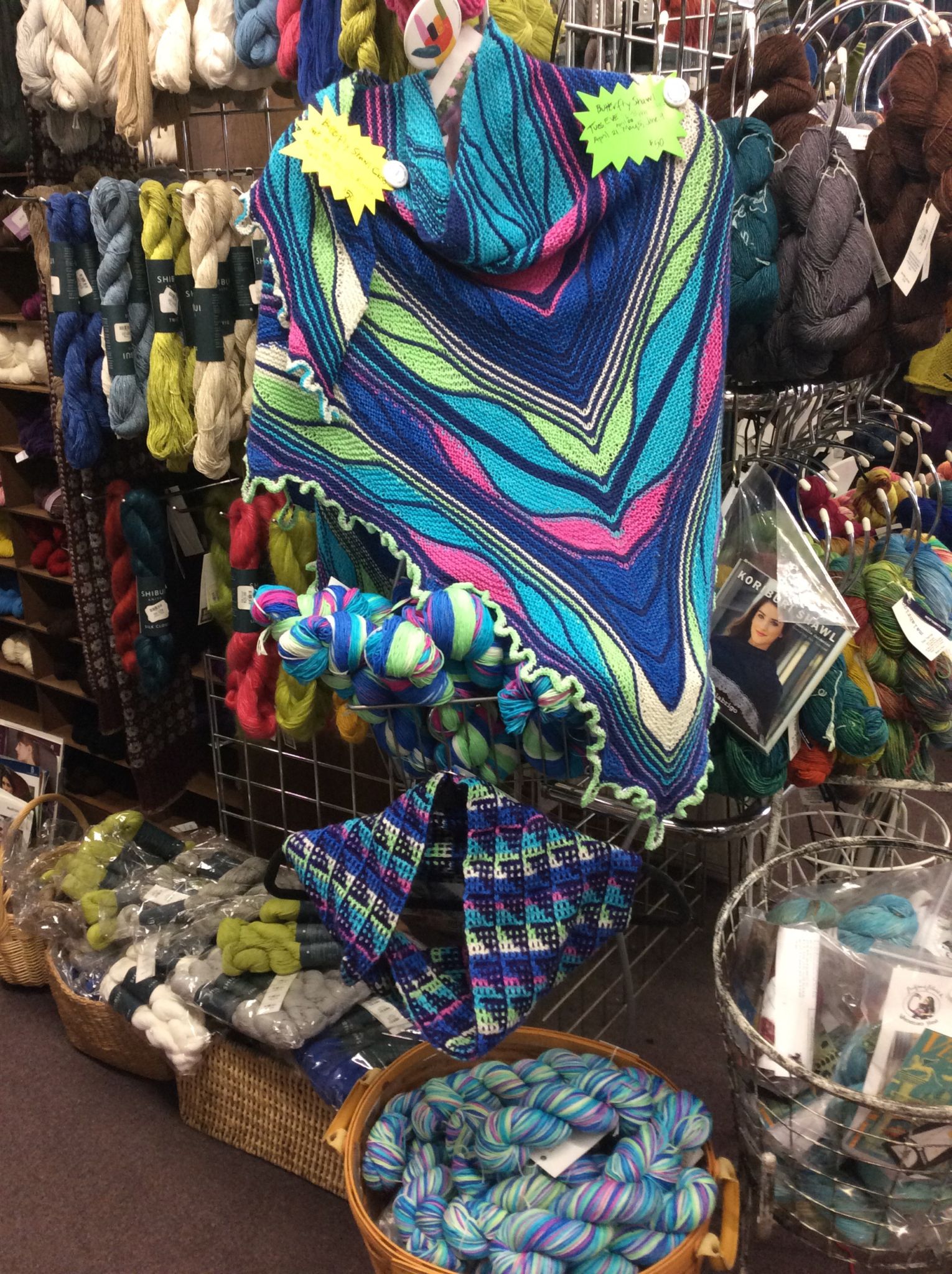 ALSO,  I have scheduled 2 class options for the Butterky Shawl I knit with  the.  Roving Indiana 2020 yarn:
Saturdays from 10-12- April 25, May 2, 16, and June 20
Tuesday evenings from 6-8 pm- April 21, 28, May 5, and June 9
Cost is $50.00 plus materials. Payment must be made to save your space in the class.
In the category of WE DON'T HAVE ENOUGH TO DO-
Malabrigo Yarns is doing a KAL with Dos Tierras Yarn and we are in on it!! The pattern is a free ravelry download by Joji Locatelli called ODYSSEY!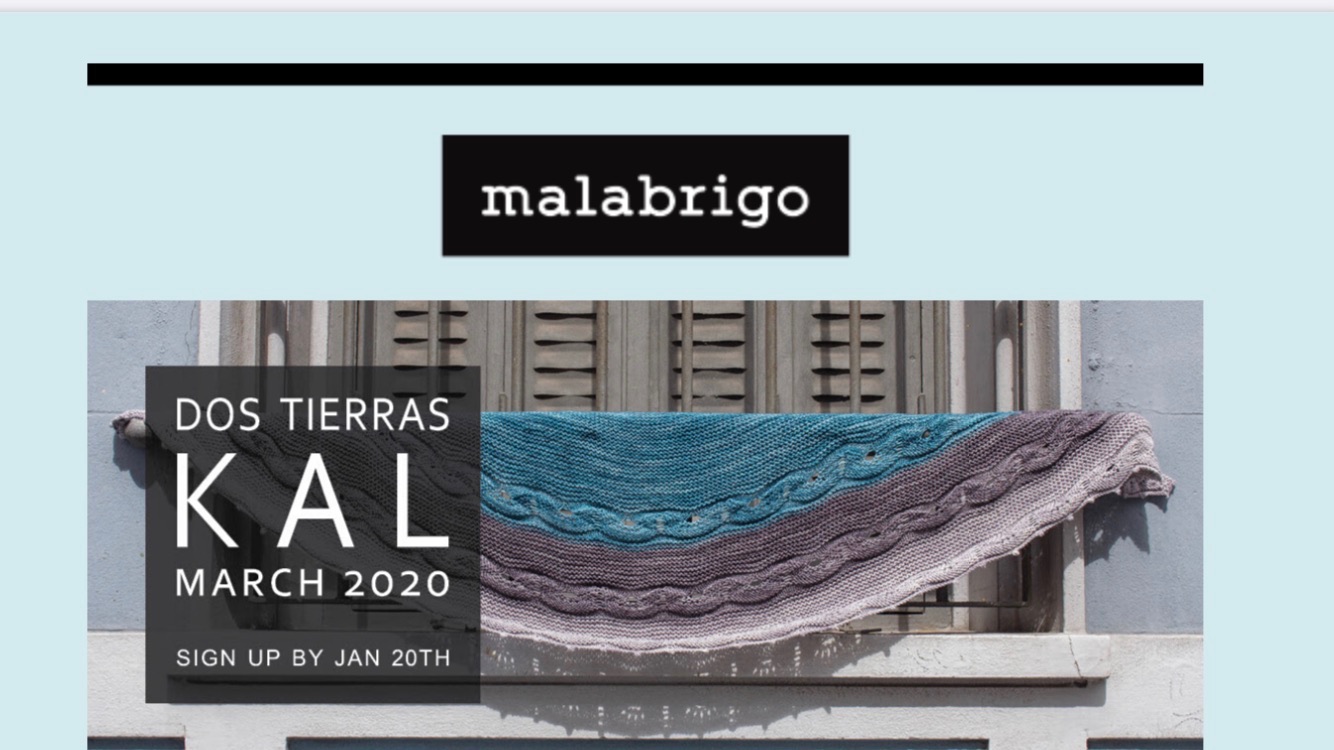 THE SCHEDULED START DAY IS APRIL 1ST!    We are going to meet on Sat. April 4th at 10 am.  I am asking that you have the first portion ( a lot of garter) finished by then. We just got in lots of colors , including the 3 new colors I am using in my sample!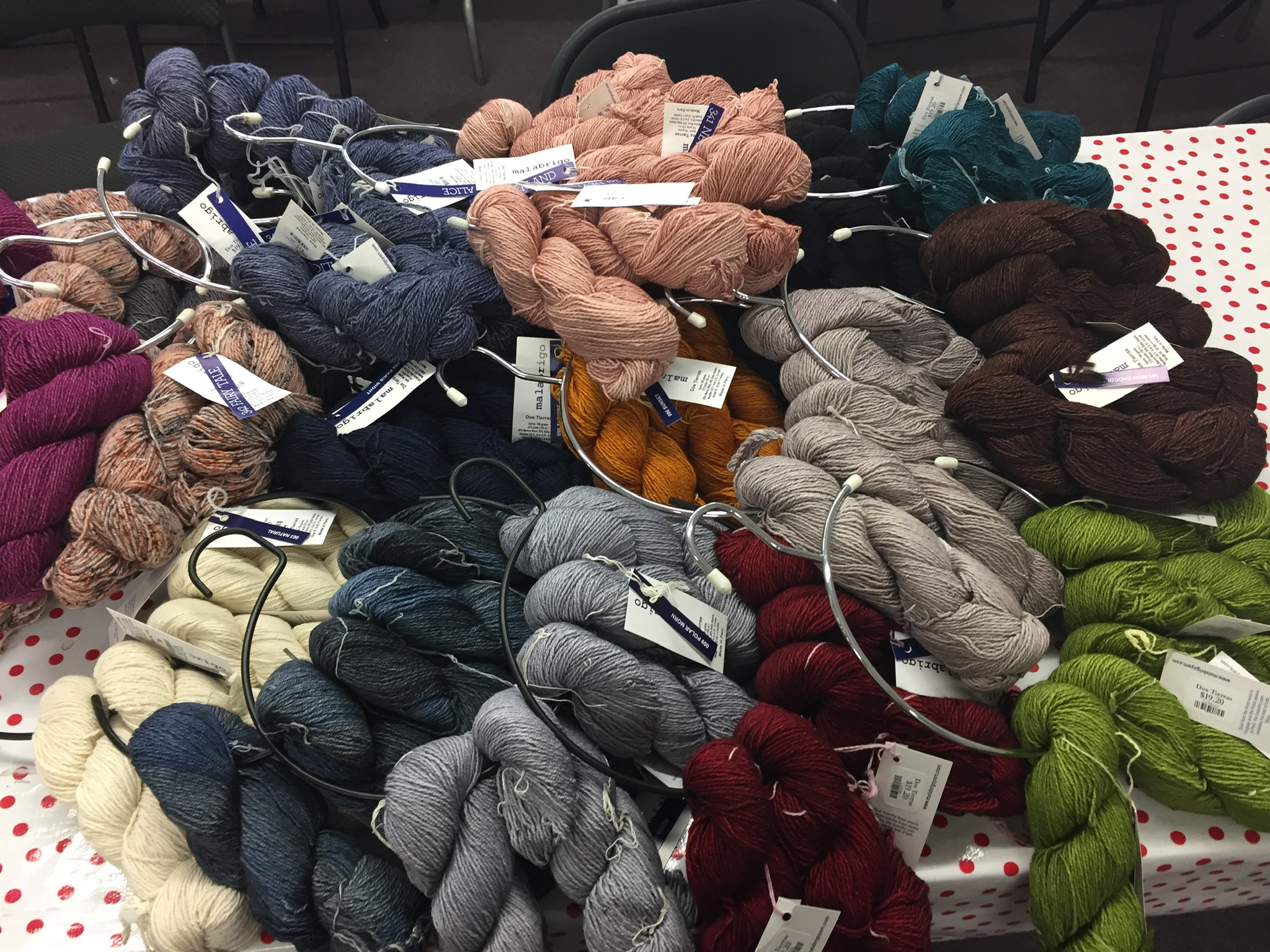 here is mine so far…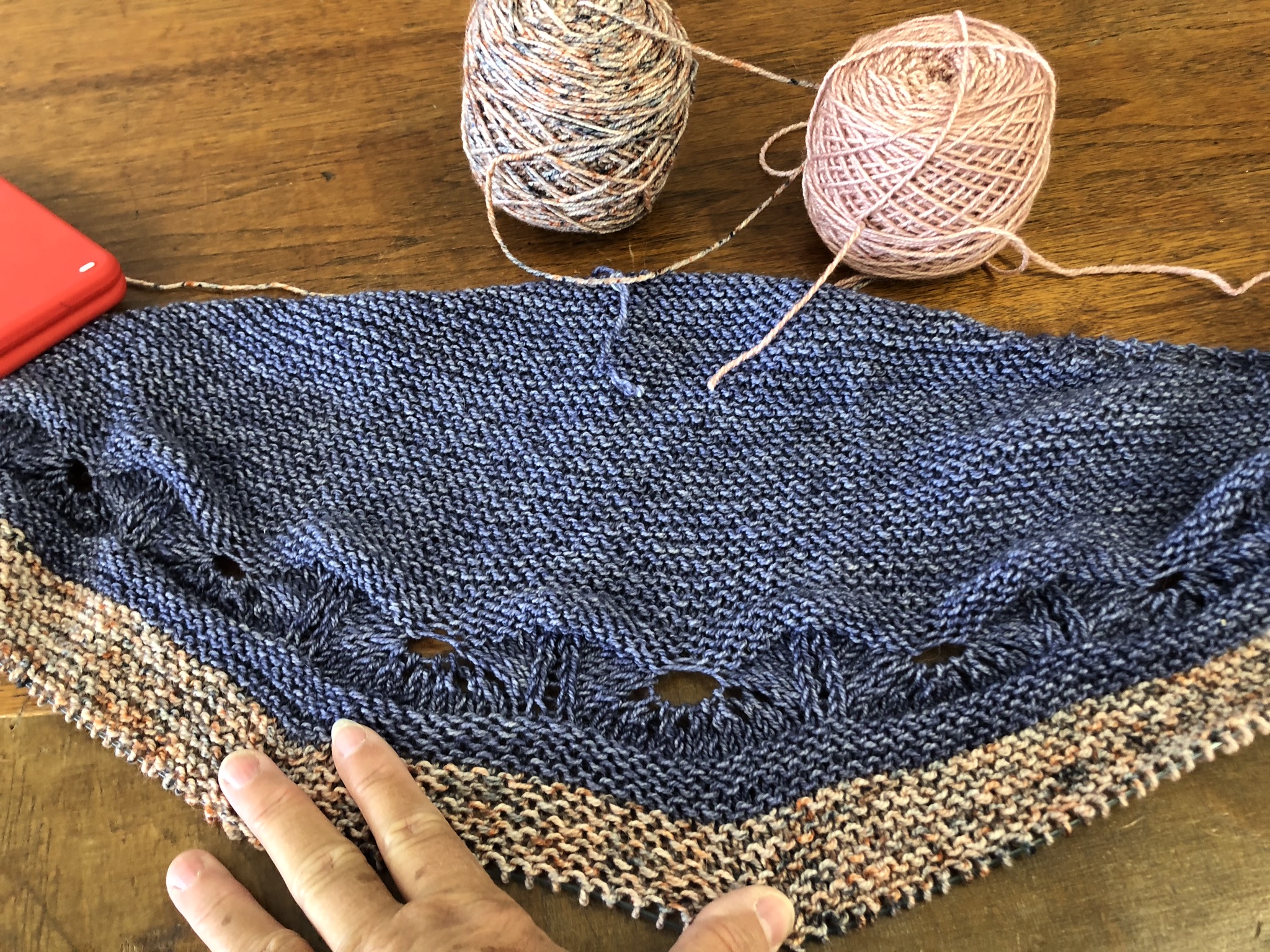 If you haven't knit with this yarn before , you are in for a real treat!  It is a 50/50 split of Merino and Baby Alpaca.  You will need 1 skein each of 3 colors.  I am using a size 8 needle as recommended by Malabrigo.  The needle in the pattern will result in you not having enough yarn in your first section. If you are a loose knitter, I recommend a size 7 needle, but let me check your work before you get too far.   I also like the tighter look of the size 8.  I think it shows the pattern detail better.
*OVERNIGHTER- APRIL 4- 7:30-?? COST- $20.plus a snack to share! I.  Will get the pizza and drinks!
The In Store Retreat is coming up! Dates are April 17-19,2020. HAVE YOU SIGNED UP? THIS WILL FILL UP, SO DON'T MISS OUT!! COST IS JUST $25 FOR THE WEEKEND WITH A 20% discount on most yarns!
Cost for the retreat will go up to $35 on April 1st!!!
Check out the pins we just got in the store! $12
See you this weekend!!