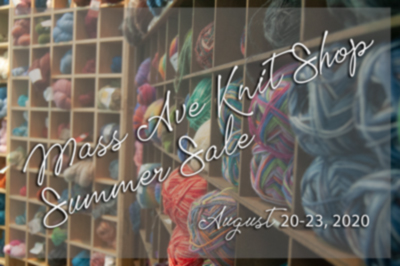 This year's MAKS Summer Sale will be August 20-23rd, 2020. To help with social distancing and still getting your yarn fix, this year we will be offering a new option for the sale. We are offering 30% on all yarn purchases through the online shop, available for shipping and pickup. All sales in-store are at 25%. The sale includes all yarns except for Liberty, Hedgehog, Knitted Wit, and MAKS yarns and kits.  To take advantage of the sale pricing online use the coupon code "SUMMERSALE".
So shop at home from Thursday at 11:00 a.m. to Sunday at 4 p.m. and save an additional 5% on your purchases during the event!
For in-store sales, we will be temporarily returning to our normal business hours for the sale:
Thursday 11-7
Friday 11-6
Saturday 10-4:30
Sunday 12-4
Remember coupon code "SUMMERSALE" for 30% off online shop sales!
Stay safe and knit like there's no tomorrow!