We've been challenged. Starting February 1st, Malabrigo is sponsoring a Knit-A-Long featuring their Arroyo DK superwash merino. And Susan has put together some beautiful color choices for you to knit the KAL 2022 with. The pattern is called "La Mondiola" and is a lovely chevron knit shawl.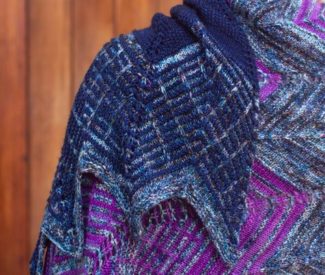 Here's how it works:
You sign up at Malabrigo for the KAL before February 1st. (Countdown on our main page!)
Visit the shop or our online store to pick out your Arroyo. You'll need four skeins in three colors: 2 skeins Color A, and one each Color B and Color C. Here's the Arroyo info:
Yarn Weight: DK/Sport
Yarn Texture: 4 ply
Yardage/Meters: 335 yards (306 meters)
Skein Weight: 100 grams (3.53 ounces)
Gauge: 20.0 to 22.0 sts = 4 inches
Needle Size: US 4 – 6 or 3.5 – 4mm
Hook Size: US E-4 to 7 or 3.5-4.5 mm
Content: 100% Superwash Merino Wool
Care: Machine washable, gentle cycle, cold water, do not tumble, dry flat
Be sure and also sign up with the shop so your name can be put on our competition board.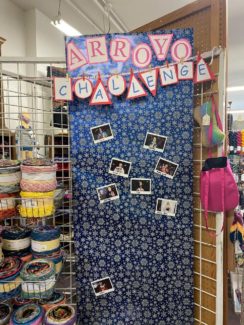 Here's how our side competition is going to work: We are challenging Around The Table Yarns over in Shaker Heights, OH to get more than them to sign up for the KAL. We've also requested to make this a fundraiser and you can do an optional $10.00 donation for OUTREACH, INC. *ATTY is also doing a fundraiser for Providence House. What do we win…BRAGGING RIGHTS and the loser buys the winner pizza.
You have until February 1st to sign up with Malabrigo and MAKS and get your yarn. Susan has additional information posted on Instagram and the MAKS Facebook page and if you have any additional questions, call us at the shop.
READY, SET, GO!