MAKS 2020 Fall Retreat
If you didn't get an email contact the store or purchase on the website. The 2020 Fall Virtual Retreat starts this Friday.

Here's how the retreat will work. We are putting together exclusive projects, one per week for the retreat. Along with the project, you'll receive a 20% off coupon for the featured yarn to complete the project. And the final week, you'll receive a 20% coupon off for any additional purchases (some exclusions apply). All purchases can be shipped or picked up at the store, at your convenience.
Along with our weekly projects, we will be having a weekly Zoom & Knit meeting. We started these during the Spring Retreat and enjoyed them so much we wanted to make sure to include them for the Fall Retreat as well. Along with the weekly Zoom and Knit meeting, we are working to schedule additional zoom meetings with some special guests. No Spoilers! Wanna Join Us? Purchase your ticket here: Ticket For 2020 Fall Retreat
Stephen West Annual MKAL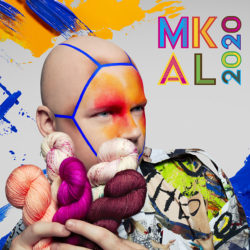 Starting October 9th! This year's mystery is called Slipstravaganza and the pattern can be purchased on Ravelry at: Slipstravaganza MKAL. Susan and Cindy have come up with an amazing variety of colorways that you can order from us. Jump over to this page to see the colorways and yarns you'll need for each option: MAKS Colorway Options
Shop Donations
We are collecting the following items if you'd like to contribute. Just drop them off at the store!
Toilet Paper Rolls
Grocery Store Bags
Snippets and Scraps of yarn
For Horizon House we are also collecting Tube or Athletic Socks in adult sizes, mostly men's but women's sizes are needed as well.
Upcoming Trunk Show
Wabash Woollen Works Trunk Show October 14th, 11 am – 4 pm at the shop. We are also working on setting up a Zoom Meeting for this event (limited to 100 participants).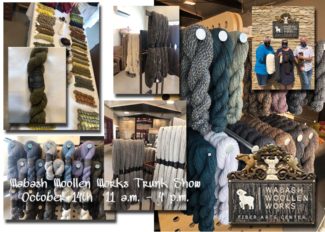 Advent Calendar Kits
Have you ordered yours yet? They are going fast so you should put your order in now to make sure you're not left out! Here's a just a peek…(that's just mean isn't it…but we wouldn't let you open your Christmas presents early.) Trust us, the colors are AMAZING! Order one here now: MAKS Advent Calendar Order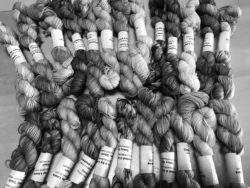 Class News
New Hours for Beginning Knitting
Our Wednesday Beginning Class has resumed with social distancing, the new time is now 5:30 to 7:30 p.m.
Butterfly Cowl Class (by Marinja)
Oct 23, 30, and Nov 20 from 10-12. The cost is $30 plus materials. We used 1 each of Plymouth Pendenza or Berroco Medina and Cascade Ultra Pima or Berroco Pima 100.