Hey Everyone,
I wanted to give you all an update on some of the things we've been working on behind the scenes at the shop. We are in the home stretch of getting our yarn stock online. This has been a big item on Susan's wish list and its very near completion. Once we finish the yarns we'll move on to notions and some other special items we'd like to do with the online store. Just a few things:
I'm in the process of reloading the color cards for the yarns. Now as you select an item from the drop-down, the color you selected will appear in the main window. Please note, we are using manufacturer photographs and I am aware that some of them do appear a little blurry. We'll work on that as we get better pictures of the products. It does seem like the smaller thumbnails are nice and clear, so you will be able to see the texture and color variations with some accuracy.
We are also going to be connecting the shop cart system with Instagram so that when Susan posts her project pictures, you should be (in the near future) able to link into the cart and pick up the necessary products to complete the project for yourself!
Another wish list item is for us to be able to offer patterns, either our own or Ravelry patterns through the shop. As soon as we come up with an easy way for you to do so, we will make that happen as well.
Susan is gonna be a YouTube creator. She and her girls are working on some videos that I will link into the site about techniques for projects she's working on or been requested to show.
We've had a test group in the shop cart and have gotten a lot of great feedback on how things work or should work to make it easier for you to order, but I'd like to open that up to you as well. I review the feedback from the site and thought this might be a great way for you to let me know what you think of the shopping cart or anything you'd like to see us add to the functionality.
We also have a few coupons available for use on the shopping cart…so for the next 19 orders, use the coupon code MAKSONLINE at checkout and I'll take 10% off your order. We are shipping and doing curbside pickups (if you're local) for ordering.
Our MAKS friends community is growing with the addition of the new online store and I just wanted to say thank you to all of you that have ordered, given feedback, and supported Susan lately. SHOUTOUTS to: Cindy from Indy, Liza from Indy, Rebecca from Indy, Betsey from CA, Amber from IA, Jenna from MN, Christina from UT, Tamsen from WY, Charlotte from TX, Christie from OK, Stephanie from Fishers, and Lisa H from Indianapolis (Susan's very first online order). Our MAKS friends are the best!
We are looking forward to the day we'll be able to restart classes at the shop, but we'll only do this when we're fully sure that everyone's safety is maintained. Stay tuned for more information.
We'll have new posts soon for projects that Susan is working on and we'll keep you up to date when we check off each item on our to-do list. Come see us at the online store. And let me know what you think! (MAKS FEEDBACK)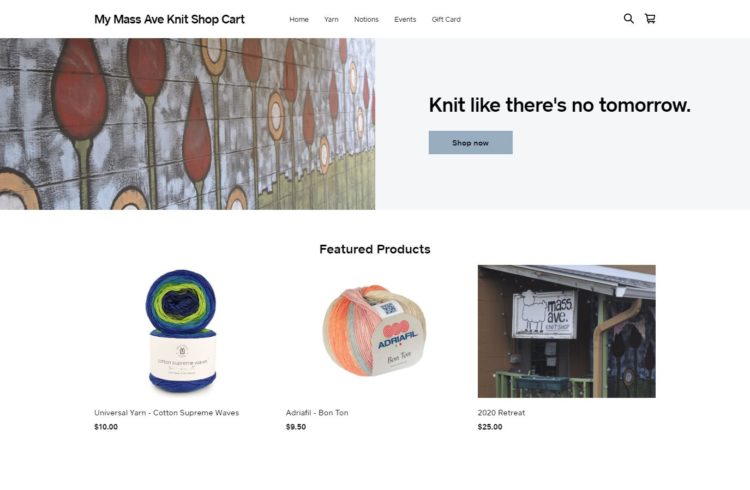 Thanks for reading! Knit like there's no tomorrow!
Dru