I have been approached by customers asking for directions for the FOOTBALL SCARF in dk? sport and Worsted! Some are going to work this scarf up for their favorite College team! That got me thinking about what fun it would be to follow a high school team that may have a child or grandchild who plays football. Then you can give the scarf as a graduation present!
So here goes- Worsted Weight Yarn- With Size 7 or 8- 16″ circ- 5 sts = 1″ – 3 100 gr. balls of Color 1 and 2, 1 100 gr ball of color 3
Dk/ Sport Yarn- with Size 6- 16″ circ- 5.5 sts = 1″ – 6 50 gr. balls of color 1 and 2, 1 50 gr ball of color 3 (NOTE THAT ORIGINALLY I HAD SAID THAT I WOULD BE USING A SIZE 7 WITH THE DK/ SPORT YARN- I THINK THAT IS TOO LOOSE. IF YOU HAVE ALREADY PURCHASED A 7 FOR THIS PROJECT, JUST COME IN AND WE WILL TRADE IT OUT FOR A SIZE 6)
Yarn: Color 1- Your team's primary color-represents your team scores-
Yarn Color 2- Your team's secondary color- represents the opponents scores
Yarn Color 3- If your team has a third color or a neutral such as white, grey, or black. This yarn will be used to deliniate the end of a game.
Worsted Weight- With color 3 cast on 80 sts and join in the round. Purl 1 round. You are now ready for the first game!
Dk/ Sport Weight- With color 3 cast on 88 sts and join in the round. Purl 1 round. You are now ready for the first game!
Each Game you will knit a round per point in correct colors. After the game is concluded you will purl 1 round in color 3 and wait breathlessly for the next game!
I have been told that the talking heads have Indy and Green Bay in the Superbowl!!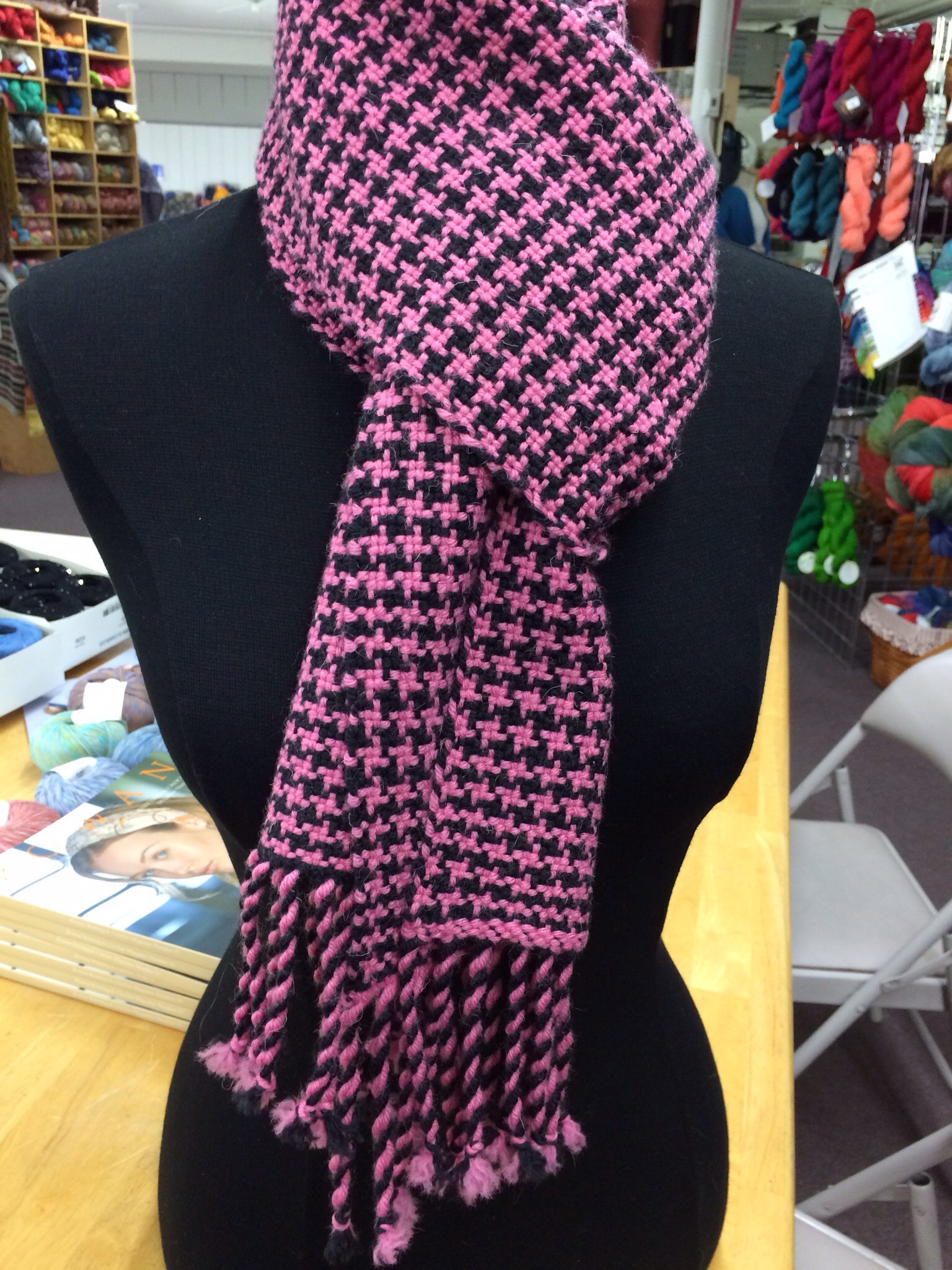 Spaces are still availiable for Dru's Intermediate Weaving Houndstooth class this Saturday ( August 15). Call the shop to sign up. Cost is just $40. plus materials. mClass runs from 10- 4ish.
There is no Beginning Knitting class on August 19. Mark your calendars.
Next OVERNIGHTER is September 12. We are asking for you to knit red hats for the American Heart Assn. You can find the attern at- www.heart.org/littlehatsbighearts . If you bring in a hat or knit one at the overnighter, you will get a discounted rate of $10 for the overnighter. Evening starts at 7:30
FALL IN STORE RETREAT is just around the corner- Date is September 25-27. Cost is $25 for the weekend.
Make a red hat (referenced in Overnighter info above) and get into a drawning for a treat from Mass Ave Knit Shop. The Heart Association is hoping to have a hat for every baby born in local hospitals during the month of February 2016! So we need to get knitting. If you are knitting these at home, you can bring them in anytime. Check out the website for yarn choices and patterns. There are both Knit and Crochet patterns online.