I am so excited to announce that the inventory is finished and I hope to have the online store available on Monday! Many of you know I have attempted this a few times, and now it is going to happen!!
Check this out! I do not sew and therefore I can not do my part as far as making masks, but I have seen many articles about the issues our health workers are suffering with, elastic rubbing on their ears. I came across this a week ago and thought I can do this!! I am asking people to make these. If you need them, I have buttons. Get the strips to me and I will put buttons on and get them distributed. I have a pattern for both crochet and knit-
Knit- Sugar & Cream or worsted weight cotton, size 7 needle.  Cast on 20 sts leaving a tail to sew on a button.  Knit for 1.5" BO with a tail at the opposite end of the cast on tail to sew on the second button.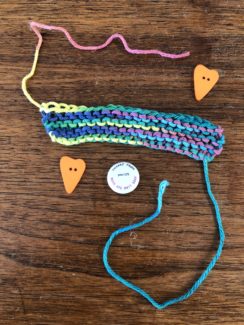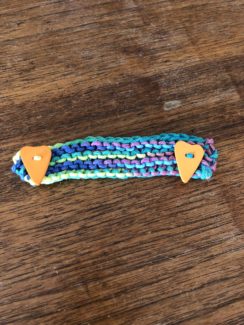 Crochet- Thanks Debbie Lookabaugh
Worsted Cotton, size G hook
Chain 25. Hdc in 3rd stitch of chain. Hdc in each st across ch…last stitch of ch will have 4 hdc in it. Work down other side of ch. finish with 4 hdc.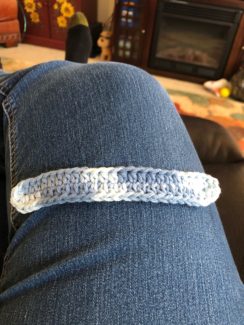 How lucky am I? Look at this adorable cup coaster I was gifted today by a customer picking up a new project!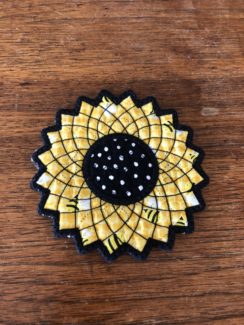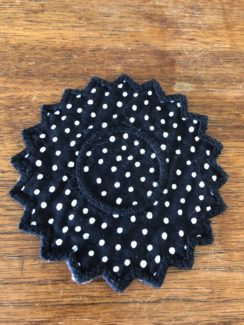 I just love this!  Thanks, Kathy
I will be at the shop Thursday from 11-3
CALL IF YOU NEED ANYTHING!
Susan