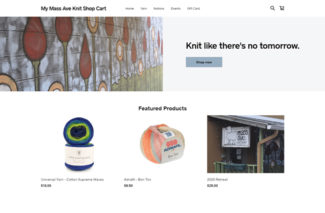 We're all doing our best with social distancing, but our yarn stash has taken a real hit from being cut off from its supply chain. We've been working hard here at Mass Ave Knit Shop to bring you an online shopping cart and we're proud to announce that the cart is now online and ready for your orders.
We are currently picking, packing, and shipping on Mondays and Thursdays. You can have your orders shipped directly to you or arrange for a pickup during our truncated business hours on Monday and Thursday. We accept the same credit cards as the store along with Google Pay and Apple Pay. And we will be rolling out PayPal in the near future.
Susan and the in-store team have completed the inventories necessary to open the online shop, and I'm working to get color cards loaded for all the product lines. Current lines available include Adriafil, Brediculous Yarns, Cascade Yards, Hedgehog Fibers, Malabrigo Yarns, Plymouth Yarn. We will be adding more yarn lines and notions as they are finished in the system.
To celebrate our "Grand Opening" we are offering the first 20 customer orders a 10% discount with the following code: MAKSONLINE
Our temporary store hours are Monday and Thursday from 11:00 a.m. to 3:00 p.m. Detailed emails will be sent to you so you can keep track of the current status of order processing. If you're picking up your order, you can also arrange for a curbside pickup. Once your pick up time has arrived, just pull into the lot and call the shop and we can bring your order to your car.
Stay Safe Knit Friends! And knit like there's no tomorrow,
Dru