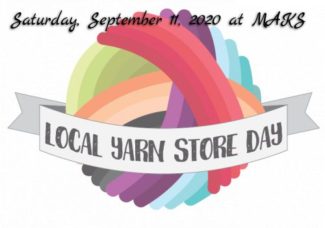 THIS SATURDAY, SEPTEMBER 12, 2020 YOU CAN SHOP ONLINE, TAKE ADVANTAGE OF THE SALE,
ARRANGE FOR PICKUP OR SHIPPING AND GET 10% OFF YOUR ENTIRE ORDER WITH THE COUPON CODE: LYS2020
Here is the list of prizes you can get with your purchases from our lovely vendors celebrating you and us (I realize I'm tossing a lot of pictures at you on this email, so please click the pictures to see the original large version of the picture):
Plymouth Yarn is offering a free pattern by Little Nutmeg Productions designed by Meghan Jones with ANY purchase of Plymouth Yarn. You will receive a code from the shop to claim your pattern.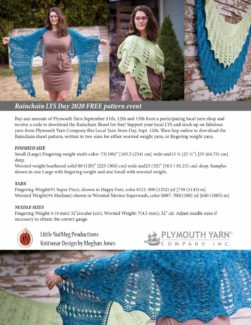 Blue Sky Yarns is offering with any BSY Yarn purchase, one free pattern from their site, or their Ravelry Collection with code from the shop.
Berroco Yarns has pulled out all the stops, celebrating LYS all week long with online events leading up to the sale on Saturday. Please check out their Facebook and Instagram accounts for details and events!
Malabrigo is offering a selection of one of five patterns for free with any Malabrigo purchase, this one is also by code as well.
Please note, the codes going out for additional vendor giveaways are time-sensitive, so we will reach out to you even before your order is shipped or picked up so that you don't miss out on the free stuff! Make sure your contact information is on your order (email and or phone).
Now for the Sad News:
We are currently working with Square to clear up a bug report with choosing to ship or pick up an order. Until this is solved, if you are charged for shipping but are wanting to pick up your order, please put a memo on your order. We will remove the shipping charges on the back-end before processing your charges to your credit card company. We sincerely apologize for this inconvenience and we're hoping to have this corrected as soon as possible.
Thank you for being a part of our family at Mass Ave Knit Shop, because you really are the reason we get to celebrate LYS Day 2020.
As always, stay safe and knit like there's no tomorrow,
Dru