This Saturday is the MAKS PITCH IN!! Have you called to let us know you are coming? We have only about 14 people so far on the list. I don' t want you to be disappointed when we run out of burgers and brats! Just call us! We are heading to Costco on Wednesday.
Don't forget to bring a copy of your recipe with you. We are Still working on putting together a recipe book! Elaine says if you are stoping at Meijers on your way here, you probably don't need to write out the recipe! Just kidding, we will be happy with what ever you bring! See you around 4:30.
PATTERN IF THE WEEK!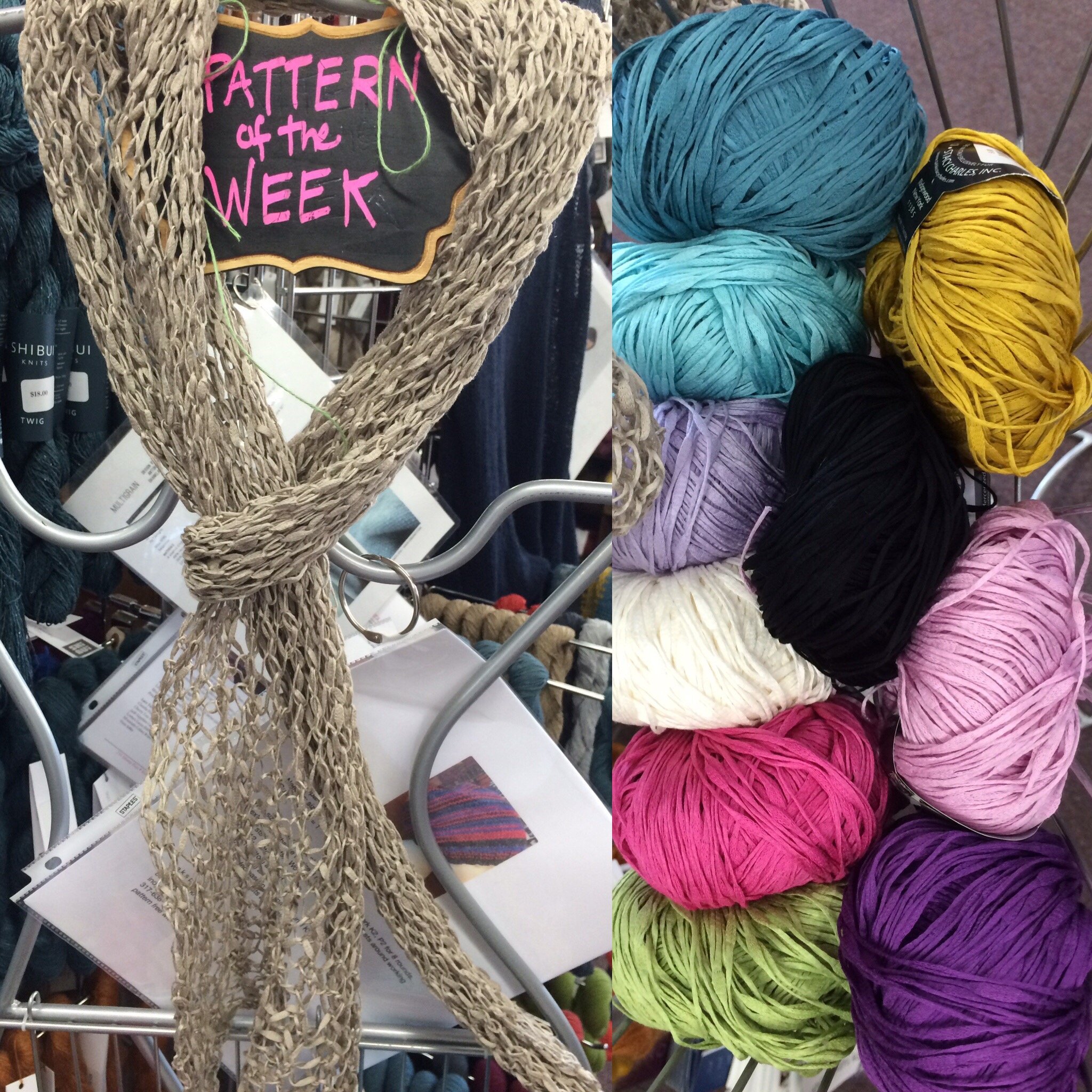 This is a great all season scarf knit with Tahki RIPPLE yarn. 2 balls makes the lattice style scarf. Beautiful colors! RIPPLE is 10% off this week! The pattern is free with yarn purchase.
IN STORE RETREAT is just a couple weeks away! Have you signed up yet? We will have a BBQ TRUCK FOR DINNER ON FRIDAY NIGHT!
Here is the menu!
Chicken Salad Croissant…. $6.00 add 2/ sides + Pickle…… $9.00
Roast Beef on Bun …$6.00
add 2/sides+ pickle … $9.00
Pork BBQ Pulled …… $5.00
add 2/ sides + Pickle….. $8.00
Sloppy Joe …… $5.00
add 2/ sides + pickle .. $8.00
Ham and cheese croissant …… $5.00 add 2/ sides + pickle…… $8.00
Hot dog & Chips…….$4.00
Chili Dog And Chips….$5.00
Chili Dog & 2 Sides…. $7.00
2 Chili Dogs &1 Side ……$8.00
2 Chili Dogs & 2sides ….. $9.00
Side Choices…. $2.00 Each -OR- 3 for $5.00 Potato Salad, Cole slaw, Baked Beans, Green beans, mac and Cheese or Potato chips
Nachos & Cheese..… $5.00
With Chili….. $6.00
With BBQ… $8.00
Beverages ……Coke, Diet Coke, sprite $2.00 Bottled Water …..…$1.25
32oz Lemonade …..$2.00
Brownie Special…. $2.00 or 3/ $5.00
Chocolate chip cookie………..75 or 3/ $200
Ice Cream Drum stick …$3.00